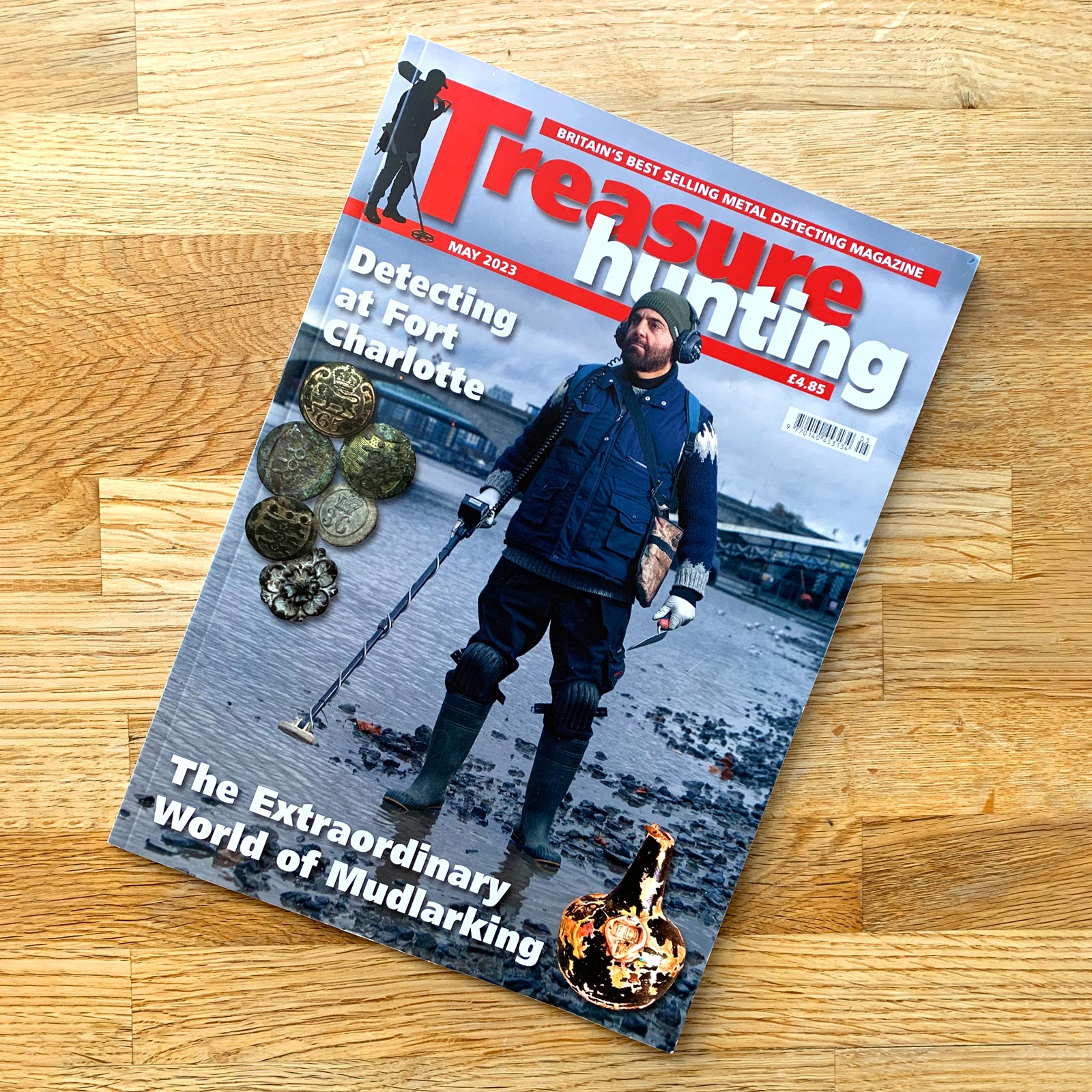 So here I go again, yet another set of my metal detecting ramblings to make it into Treasure Hunting Magazine. This time it's all about the Roman discoveries that me and a friend have been finding in the village of Weston. Up to the point of completing the article we had been on the permission at Weston for 8 months and this article is the story of our journey there so far.
This time I had a massive 7 pages dedicated to my efforts which is just a brilliant thing to see in the magazine. Quite how people responded to it I guess I will never know, but at the very lest it's great to have it as a printed record of my finds as well as the experiences and historical discoveries that have been made.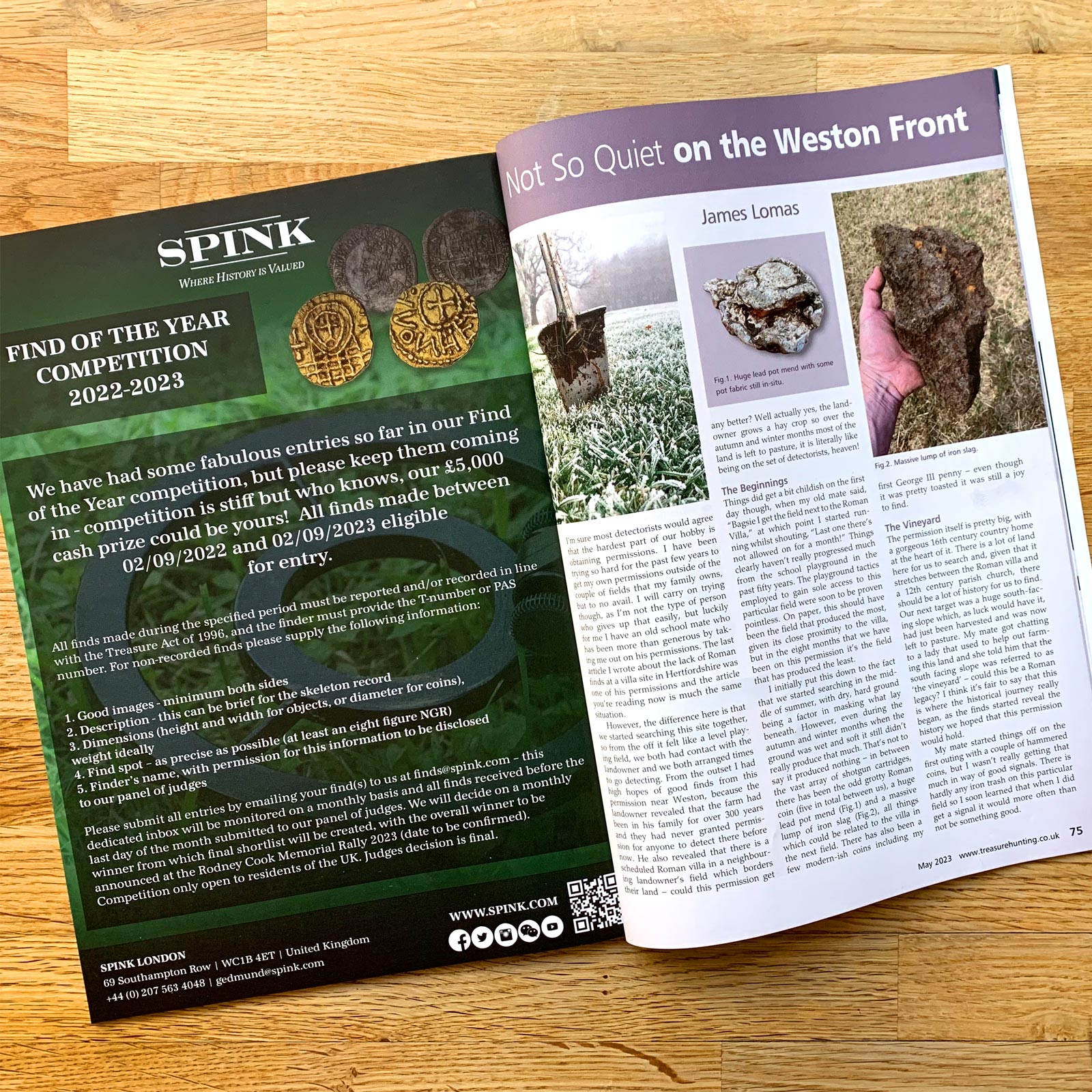 As some will have gathered, Weston is where Julian Evan-Hart grew up and consequently he has a keen interest in the things we have been finding there. Once the article had been submitted to Treasure Hunting Magazine he was kind enough to write a little piece about it on their facebook page which read as follows…
NEW MATES AND METAL DETECTING MEMORIES – This is truly a marvellous hobby a great breeding ground for positivity and let's face it over the last 2-3 years almost all of us have needed that. Several years ago a new-starter detectorist called James contacted me for some advice on an area I was familiar with in North Herts – Now I've never actually met him other than email but over the years we have become good buddies and I hope to one day rectify that non-meeting status. We can share a joke or two and in the last year or so he has blossomed into a regular writer for Treasure Hunting magazine.
SMALL VILLAGE – Well, recently he revealed that he had secured permission by way of a friend to search the fields in a small village. When I heard where I was amazed as its where I grew up from 1962-82 – He has written a feature about this to be published in a future issue and for me it was fantastic to edit it. From his photographs I knew those old oaks, (I had my first cigarette behind their thick and ancient trunks) that old and dense hedgerow was where I found my first Badger sett, the ridge of that field was where the local gamekeeper caught me and a current girlfriend of the time back in 1977 and later that day told everyone in pub and then my Mum LOL. Perhaps most importantly, in one of his pics is a small field where in 1972 I first switched on the button of a C-Scope fifty years ago. Not often that an Editor gets the opportunity to edit something with such a personal connection. But anyway to things of greater importance James and his mate have discovered the site of a previously unrecorded Roman building the site of which is splattered with coins and brooches and has become a project involving his FLO and other archaeologists in the area as well as having their coin finds assessed and identified by one of the UK's leading coin experts -This is going to be a great read, all things good about our hobby, so thank you James. Just another example of the positivity that this hobby can, does and most certainly should deliver at all times. Shown is James's hand loaded with coins from the newly discovered site of the Roman building  – a definite 'Handful of History' there. Have a great weekend all the very best Jules.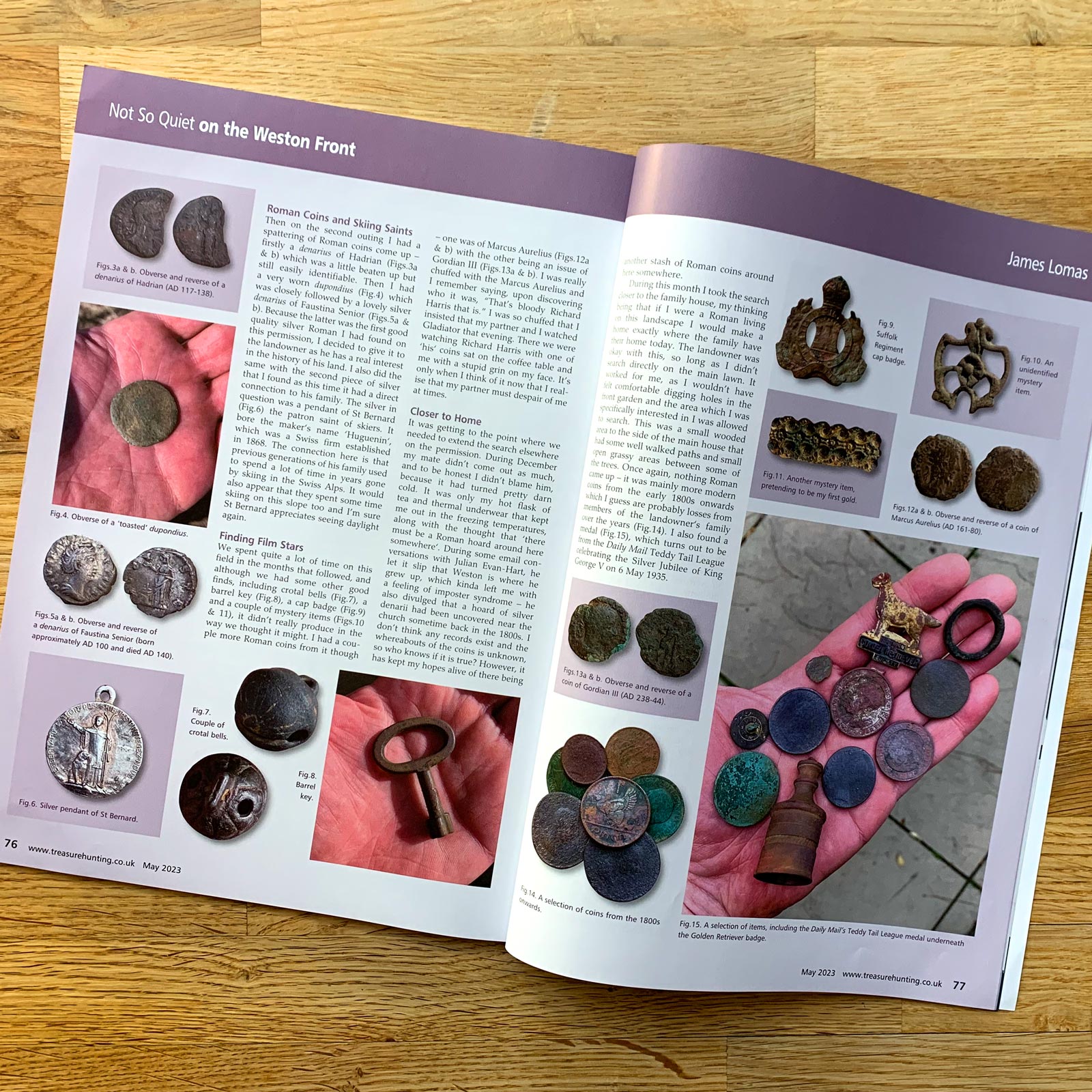 A few bits of silver in the mix.
I think the Romans were here?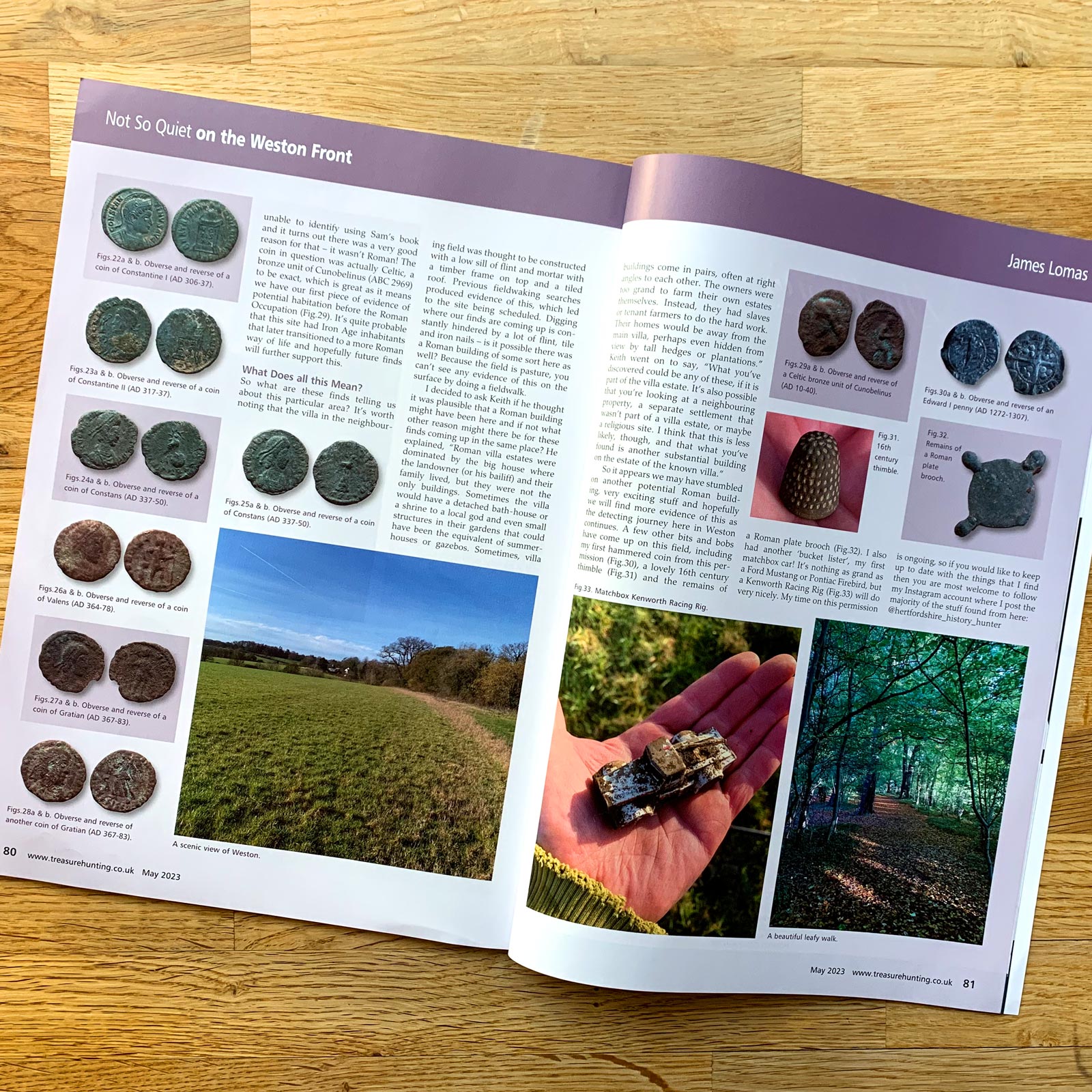 This issue has another significance for me as it is one that I have helped to produce. The publishers of Treasure Hunting Magazine have been very busy this year with other projects and so they asked me if I would like to help out on the magazine as they know that my profession is graphic design. It has been an absolute delight to mix work with my hobby in this way and I hope that I will have the chance to work on future issues of the magazine. My name has also appeared alongside Christine Jennet on the layout and design section of the contents page, it's a small thing but it makes me smile every time I look at it.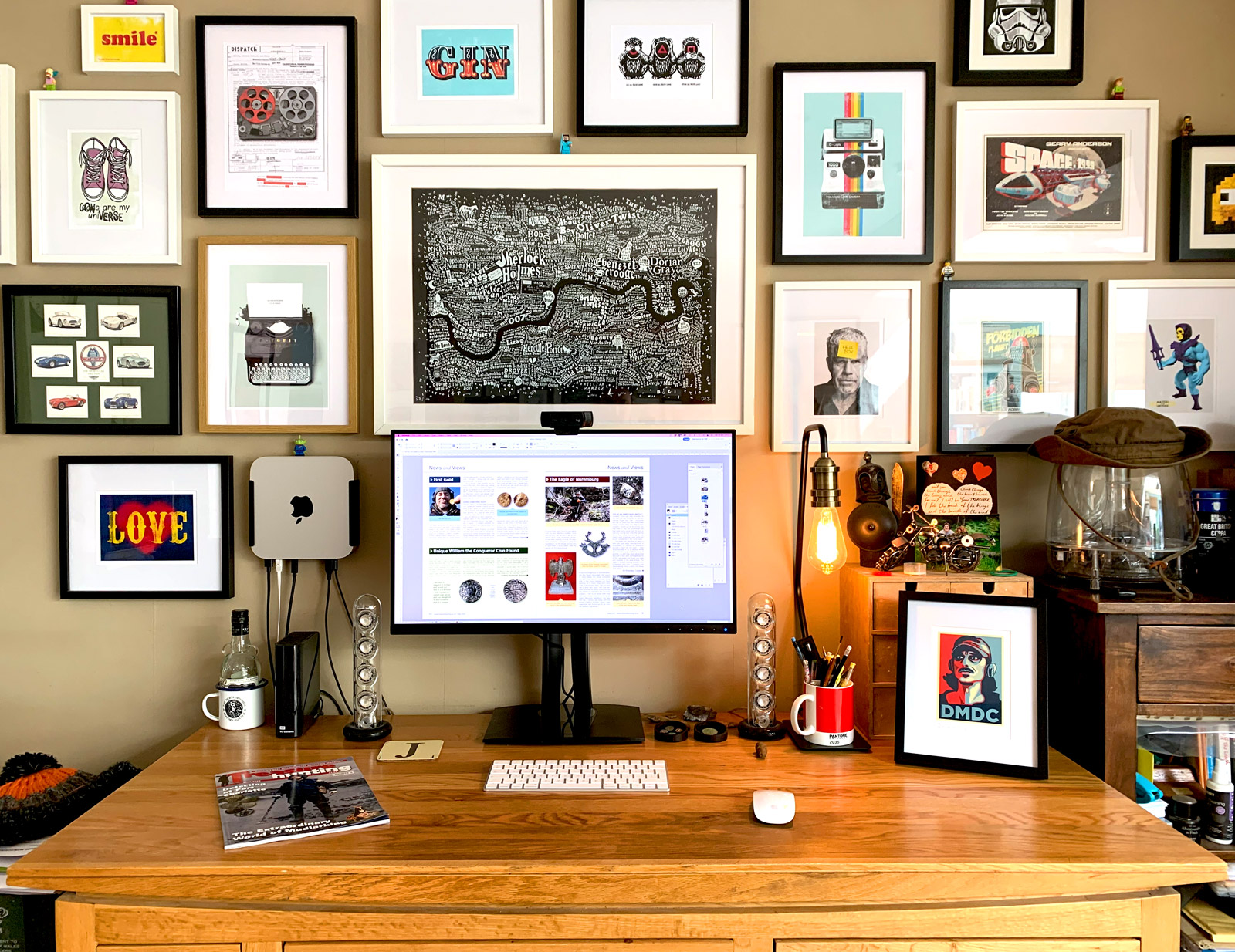 Working from home on THM.
As for the journey at Weston, this will continue and there will hopefully be some exciting developments later on in the year. To find out what they are just keep an eye on my @hertfordshire_history_hunter instagram account where you can follow everything that I find and what developments might be occurring!