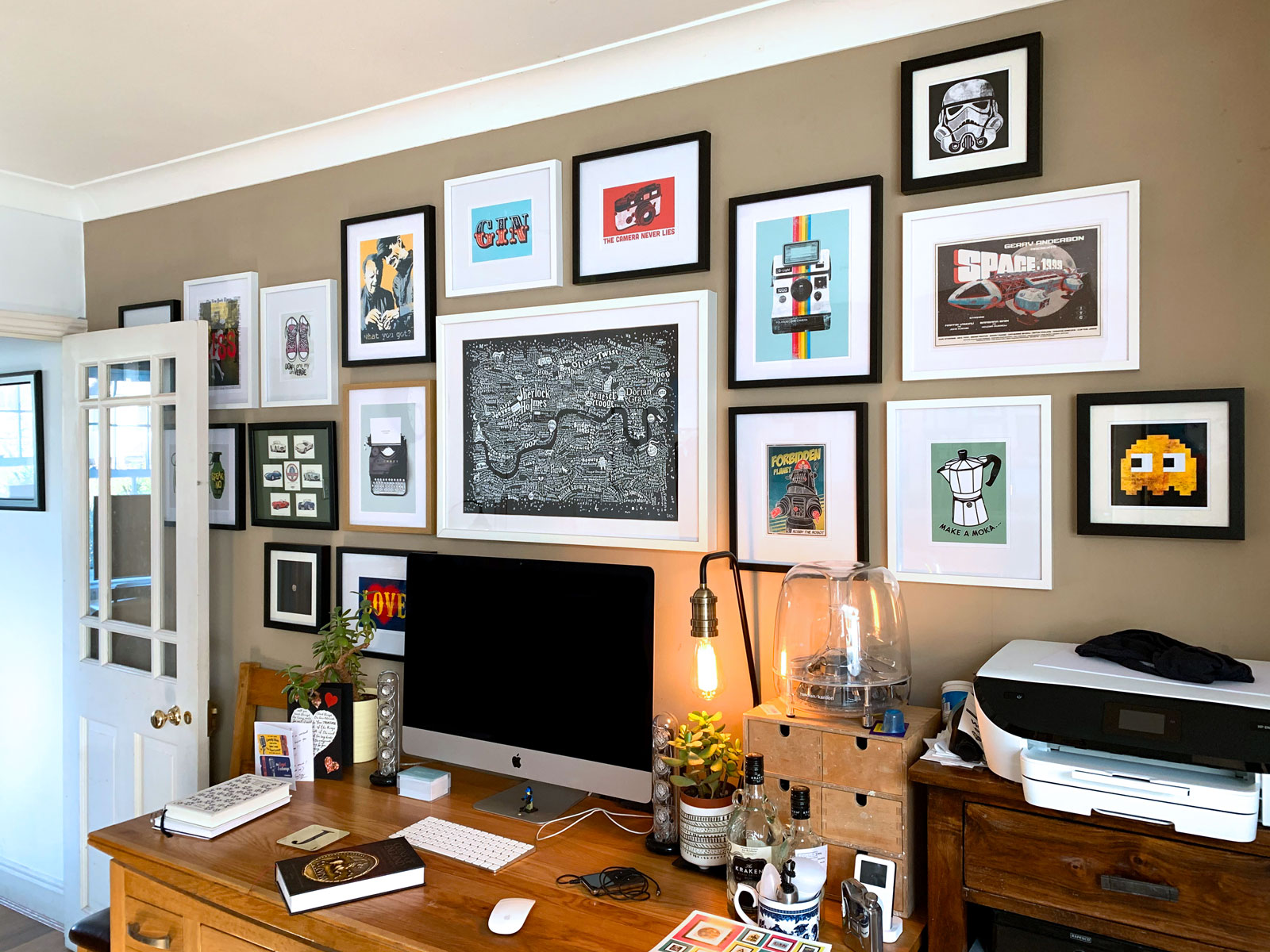 Creating a gallery wall is a great way of making an exciting feature in your home and there is no end to what you can include. It could be limited edition prints, original paintings, photographs of family, friends and holidays, a favourite album cover, beermats, postcards, comic book covers, a collection of concert tickets, pressed flowers, I've even framed my first silver hammered coin that I found whilst metal detecting! I think you get the point, creating a galley wall is something you can be very creative with and have a lot of fun doing!
I decided to create a gallery wall above my workspace. This is because it helps to keep me inspired whilst working on printable designs, but it also means I can swap pictures in and out so I can see if the designs I'm working on are looking good!
For this gallery wall I have used a limited edition screen print that I purchased at an art fair a few years back. I've used this as the main focal point and then created the rest of the gallery around it which has rather nicely framed my workspace. As well as being good for keeping me inspired it also serves another purpose and this is to show that creating a gallery wall that looks good, doesn't have to cost the earth!
The limited edition screen print that you can see I picked up for £125 and this is the most expensive part of the gallery wall. The frame for this print is from habitat and cost £38, all the smaller frames came from Wilko and cost between £4.50 – £5.50. So the entire cost for this Gallery wall is just under £310! Most of the prints that you can see in this gallery are available on the printable website.
For me personally I love the contemporary look of the frames that I have chosen, but again this is something that you can mix and match to suit your own tastes. You can find a wide variety of frames in different styles and sizes in all sorts of places, from art markets and car boot sales to charity shops and the internet, you just need to keep your eyes peeled!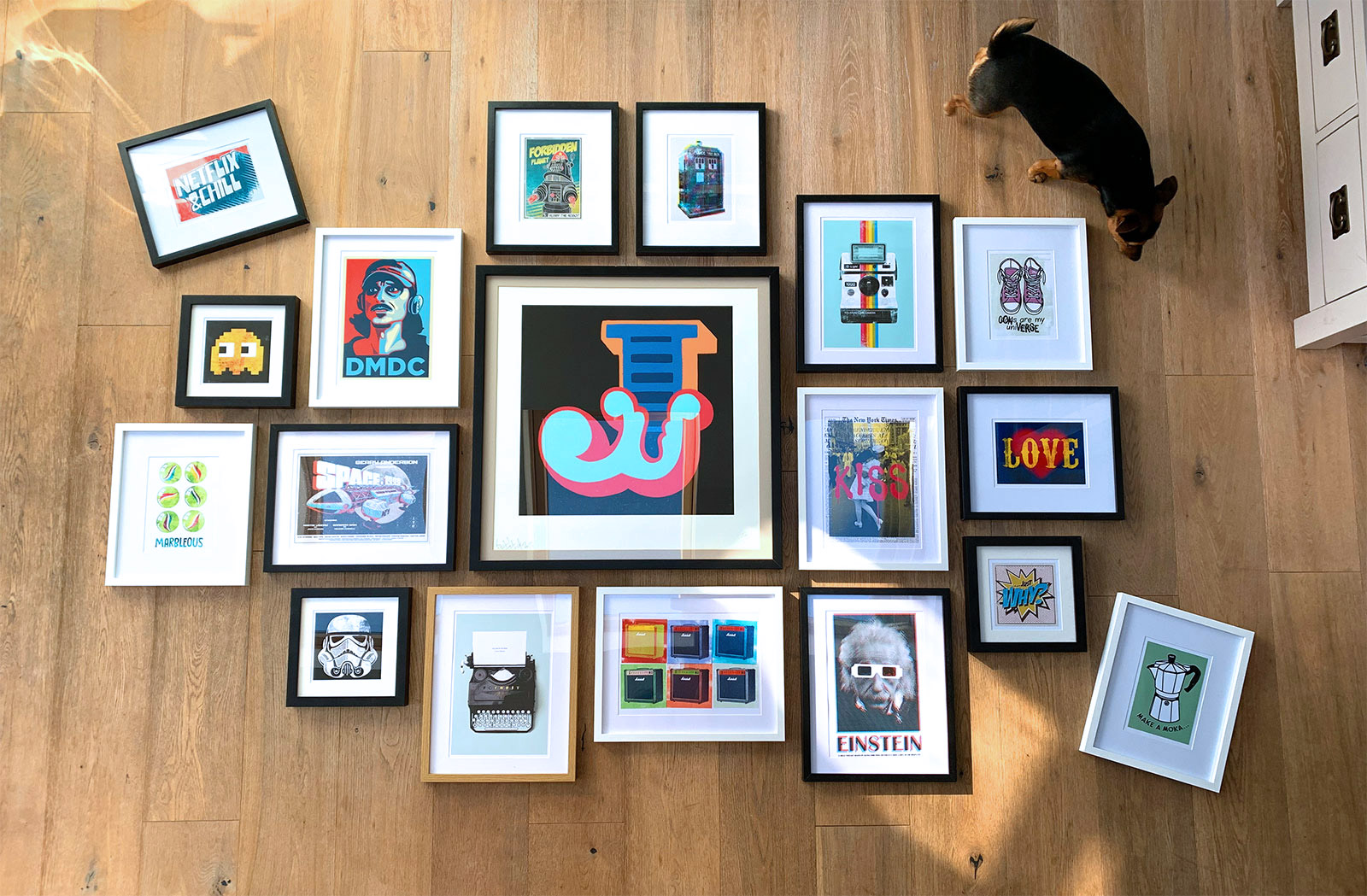 Figuring out a composition on the floor with a little help from Echo!
Another important part of creating a gallery wall and possibly one that puts a lot of people off is the composition. So at this point you have found all the things you want to include in your gallery wall but where in the composition do you put them? There are all kinds of factors that play a part in this, colours, sizes, how much space on the wall you have to play with. When you think about it in those terms I can see why some people would be put off doing it, but don't be!
Making a gallery wall is a personal experience and because of that there really isn't a wrong or right way of doing it, just do what looks good to you. The gallery wall I have created above my workspace will be ever changing due to it being a testing ground for my printable prints, so it was never put together as a set piece. But If I were going to create a set gallery wall then my advice would be to place all the items you are going to use on the floor and just move things around until you find a composition that you are happy with. That's all there is to it!
Once you are happy with how it looks on the floor then take a photo so you can use that for reference when committing it to the wall. It's also a good idea at this stage to do some measuring just to make sure that what you have created will actually fit on the wall. If like me you have decided to use a bigger print as the main focus then place that in the right position on the wall first and build everything else around it.
So if creating a gallery wall is something you want to do then just do it! Enjoy every stage of the process that creating a gallery wall will bring. Create something interesting and amazing that is completely unique to you and your tastes. Something that will be a talking point and inspirational for everyone who is lucky enough to see it!
If this blog inspires you to create a gallery wall of your own then please do post photographs of it on our social media pages, we would love to see them!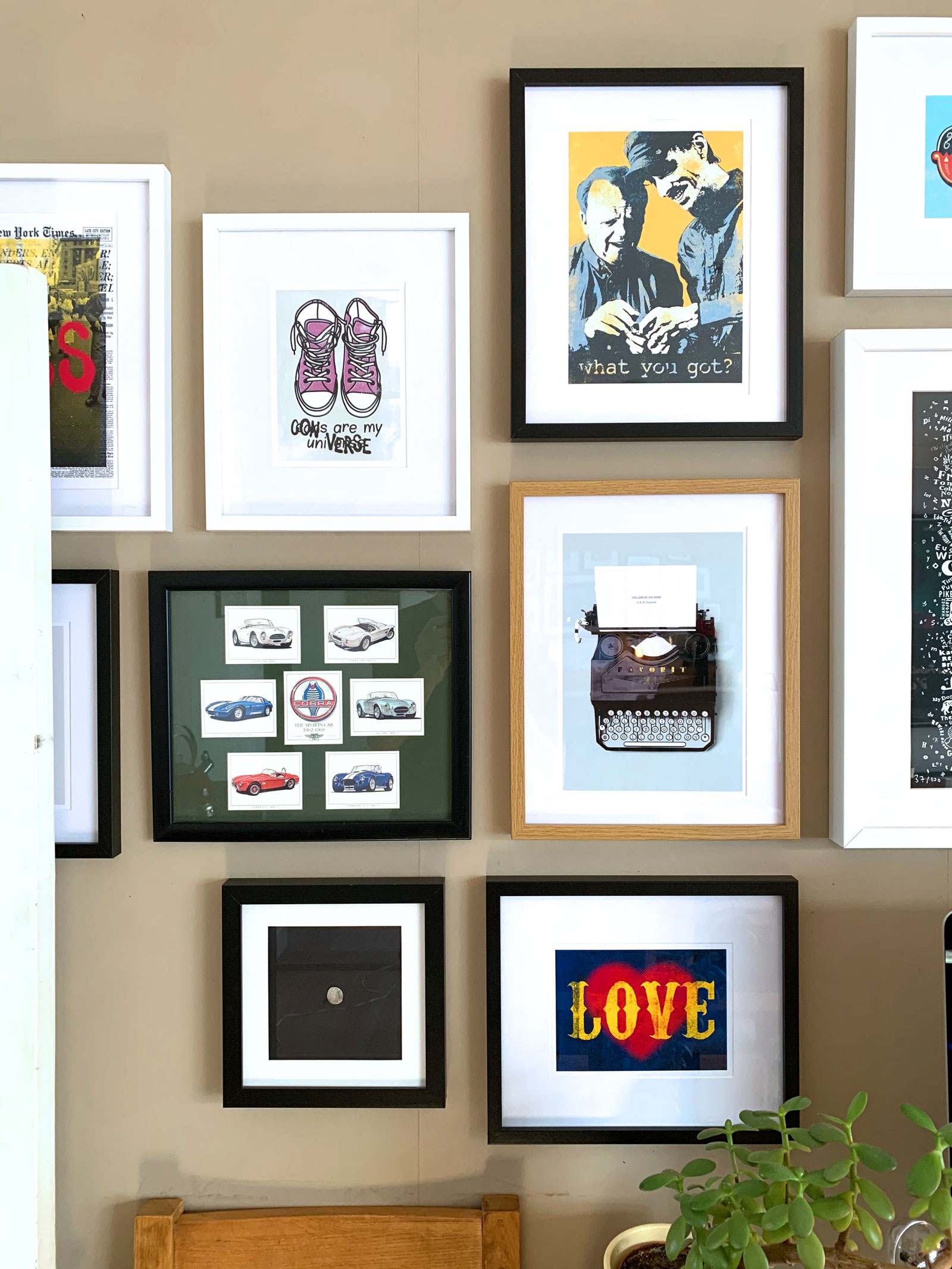 Spot my framed silver hammered coin!