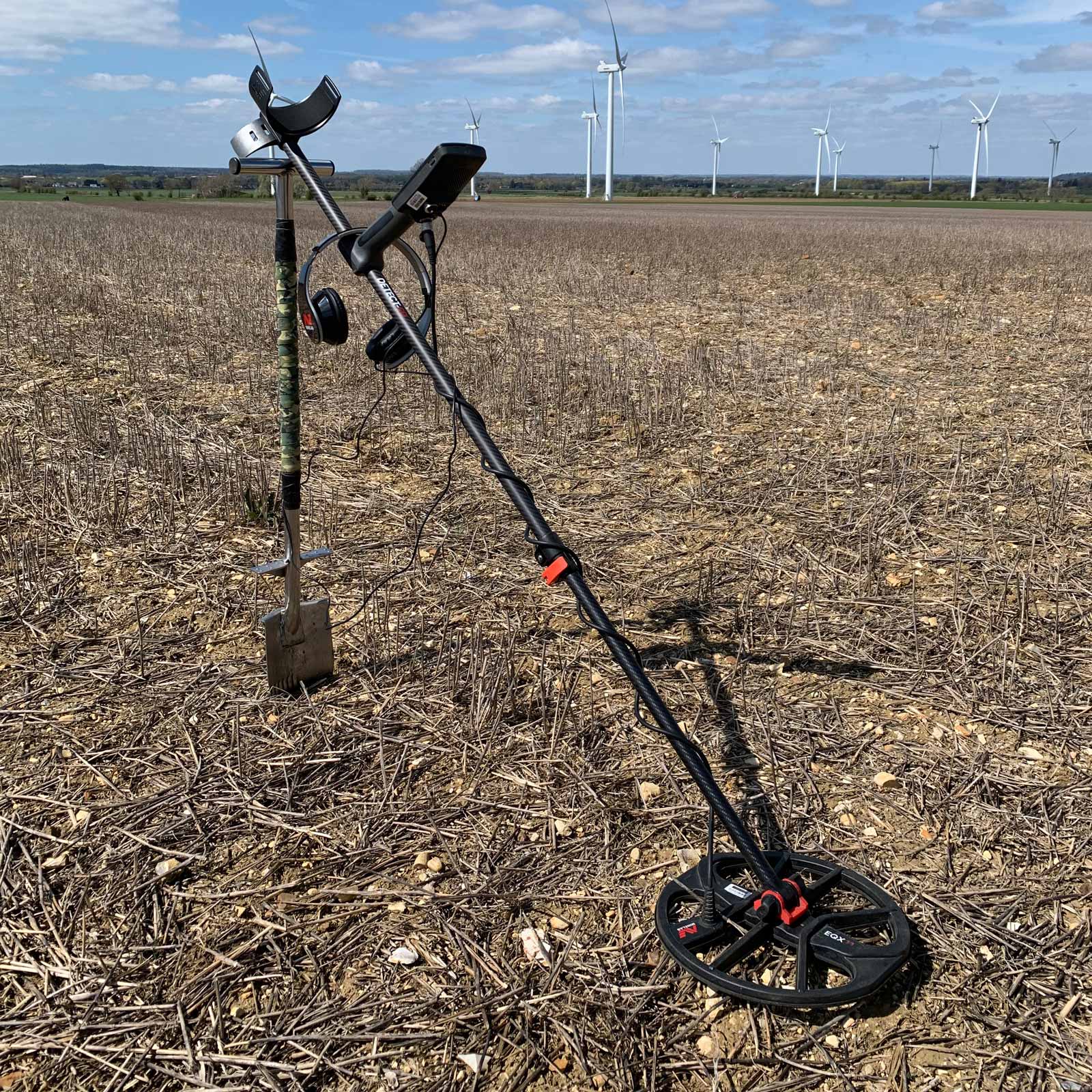 Being a keen mountain biker I'm forever pimping my ride with the odd upgrade here and there. Mostly it's stuff I don't need to upgrade but I'm addicted to shiny new techy stuff! I thought I would be safe from this addiction with metal detecting as I really didn't think there would be much scope for pimping a detector… turns out I was wrong!
There is a world of extras and add ons for detectorists to get addicted too, a whole range of must have gadgets and upgrades. So it hasn't taken long for me to make a change to my Equinox 600, a new shaft to be precise and a carbon fibre one no less.
You may ask what's the point in changing the shaft, the stock one is reasonably user friendly and it's not particularly heavy? These things are true, but I have a couple of niggles with the stock one and I also have a tech addiction to please. My main gripe with the stock shaft is that it's musical! It has a row of holes most of it's length which are used as anchor points for the locking mechanism to extend or retract and secure the shaft in place. It's not a bad system, it works, but on a windy field these holes have a tendency to whistle, much like the sound you get from blowing over the top of a bottle. The OCD in me finds this incredibly annoying so the search for a new shaft began!
After reading quite a few reviews on shafts I opted for the Detect-Ed two piece carbon shaft. Other companies do make three piece options but most reviews said they weren't sturdy enough and that it didn't make for a comfortable swinging action.
Detect-Ed is an Australian company and I ordered the new shaft direct from them at a cost of $130 (£88) including postage and packaging. From order to doorstep it took about two weeks to arrive, not too bad considering we are in the middle of a pandemic. It arrived in a heavy duty cardboard tube which was fairly untarnished by it's travels around the world. After removing it from the packaging it was fairly easy to swap the shafts over, it took about 10 minutes in all and I have to say it looks absolutely fantastic!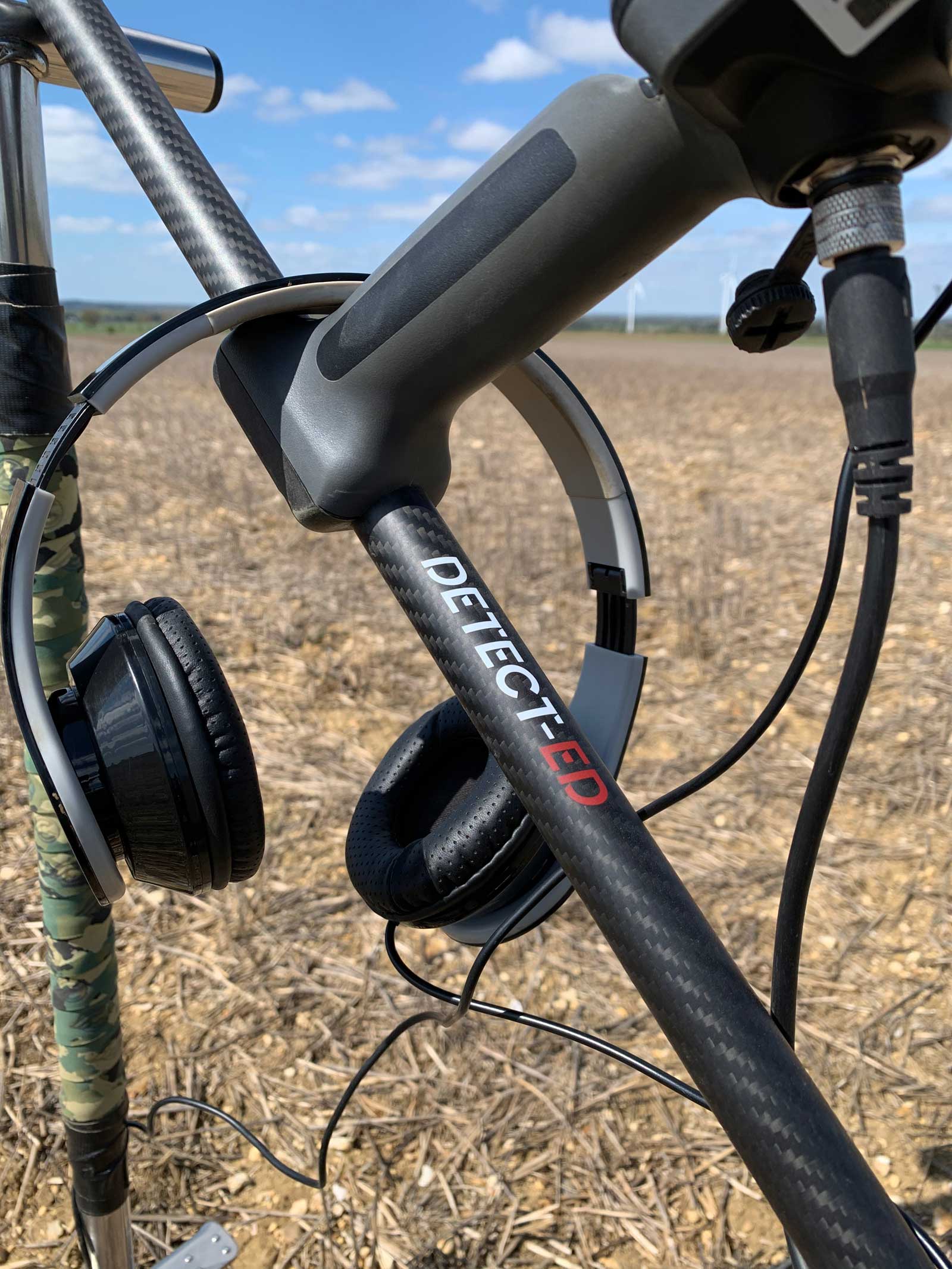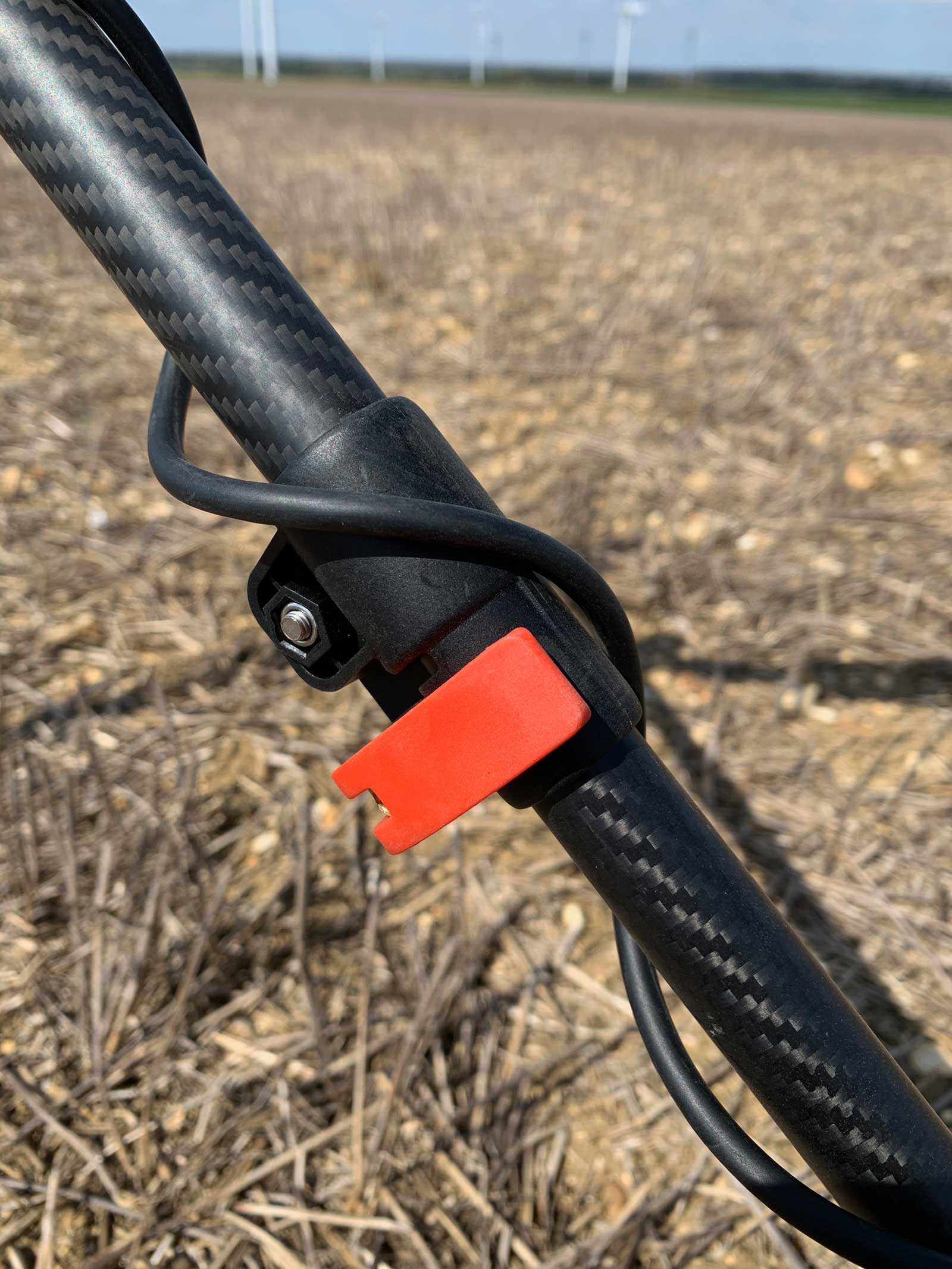 Quick release locking mechanism.
My first outing with the new shaft was on a fairly rugged and stubble ridden permission so it was ideal for seeing how tough and sturdy this shaft is. Throughout the day it performed really well, the swinging action felt stronger and more assured than the stock shaft. Hitting clumps of dirt and sifting it's way through the stubble was no trouble at all and the coil attachment feels very sturdy, well made and well connected to the shaft. Weighing in at 180g it's nearly 100g lighter than the stock shaft (274g) which does make a difference when you are out on a permission for hours.
It's strange to say but thankfully it was a windy day and it was a joy not hearing any whistling from my new shaft, this was after all my main reason for buying and my ears love it.
My only issue with this shaft is the locking mechanism. It's works like a mountain bike quick release which I love, the only problem is that the lower part of the shaft does not stay in a straight line position when you extend and retract. This means that you have to be a little precise lining things up before you secure the lock which I can live with but it would be an easy thing for Detect-Ed to sort out. A groove on the lower shaft and a notch to feed it through on the locking cuff would solve this problem and give it a little more stability too.
When the lower shaft is fully retracted it's about an inch shorter than the stock shaft, it doesn't sound like much but loosing the extra inch made it much easier to store it in the boot of the car, bonus!
There are a couple of price options on the Detect-Ed carbon shaft, I have the black version but for a little more money there is a red belly version. Both of these have the further option of an aluminium arm cuff at an additional cost. You can also buy coil washers for the lower shaft which could be quite handy to keep as spares.
So to conclude, I love this shaft. It looks great, it performs well and it doesn't sing me a tune when it's windy! It's gets a solid 8/10 from me and if detect-Ed can sort the locking mechanism then it would be 10/10!