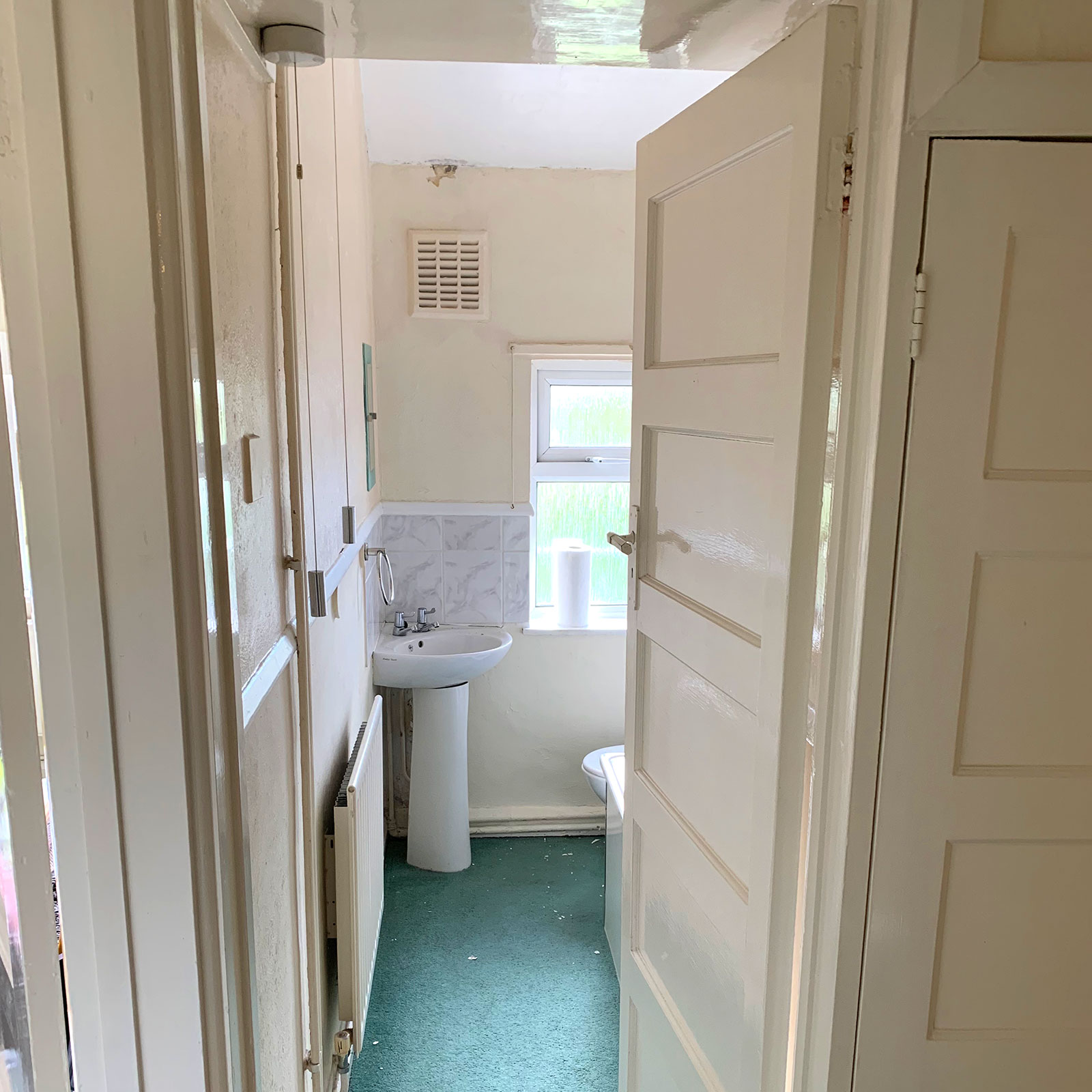 flat refurbishment – part 4
The bathroom… oh the bathroom. This was possibly even worse than the kitchen. The thing that first hit you was the musty damp smell which emanated from the floor. Why would anyone use carpet as bathroom flooring, just why!?!
The carpet went immediately revealing bare floorboards which were thankfully in very good condition! This room is a particularly small space in which to fit a bath, toilet and wash basin. It was further compacted by a fairly deep cupboard which had access from the hallway and above that a lofty shelving space which was hard to get too. The walls were a mixture of tiles and wood chip and the plumbing left a lot to be desired with old pipes and a badly situated radiator. Like the kitchen this would all need to be ripped out and started over.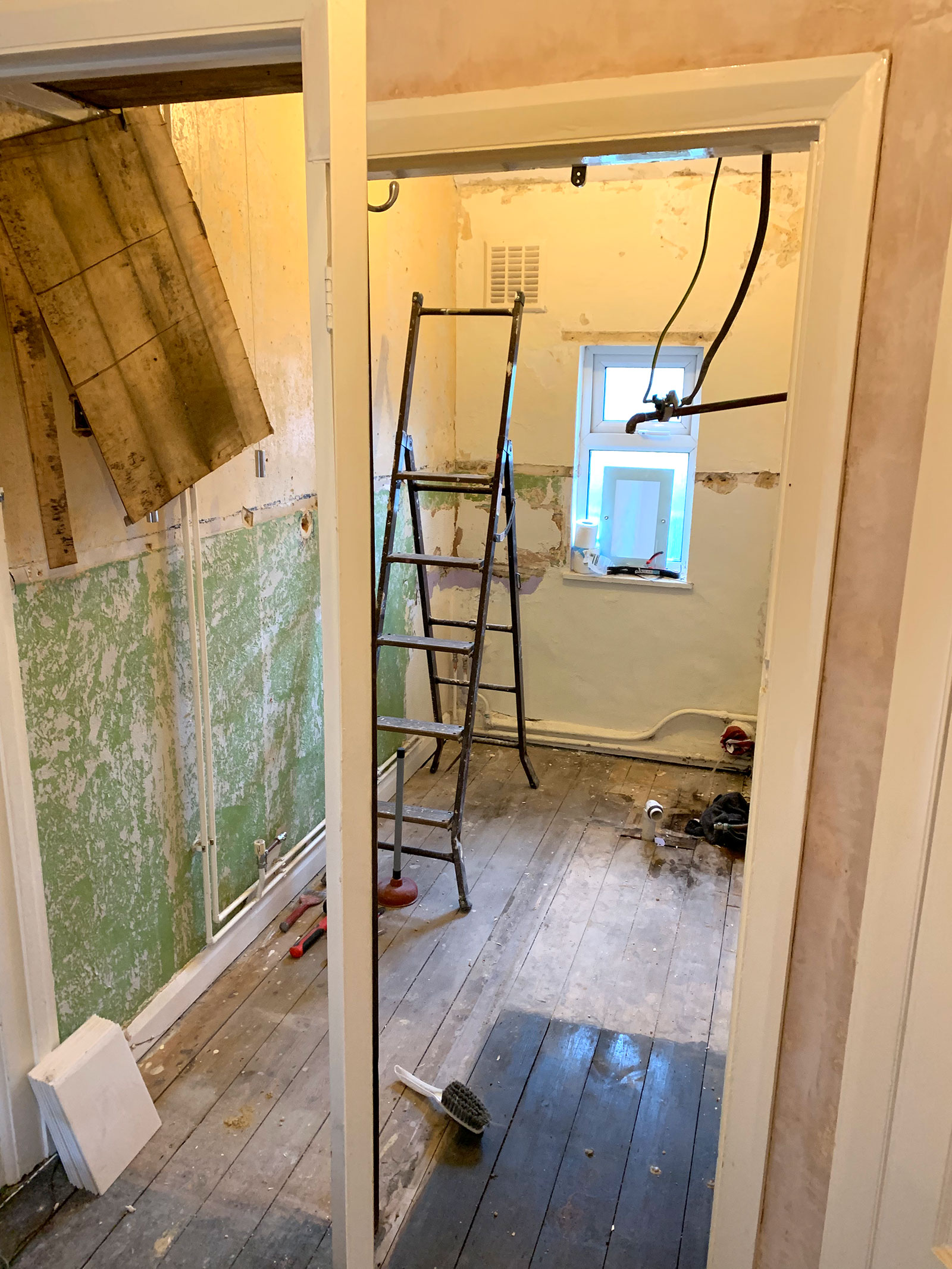 Ripping out the old cupboard.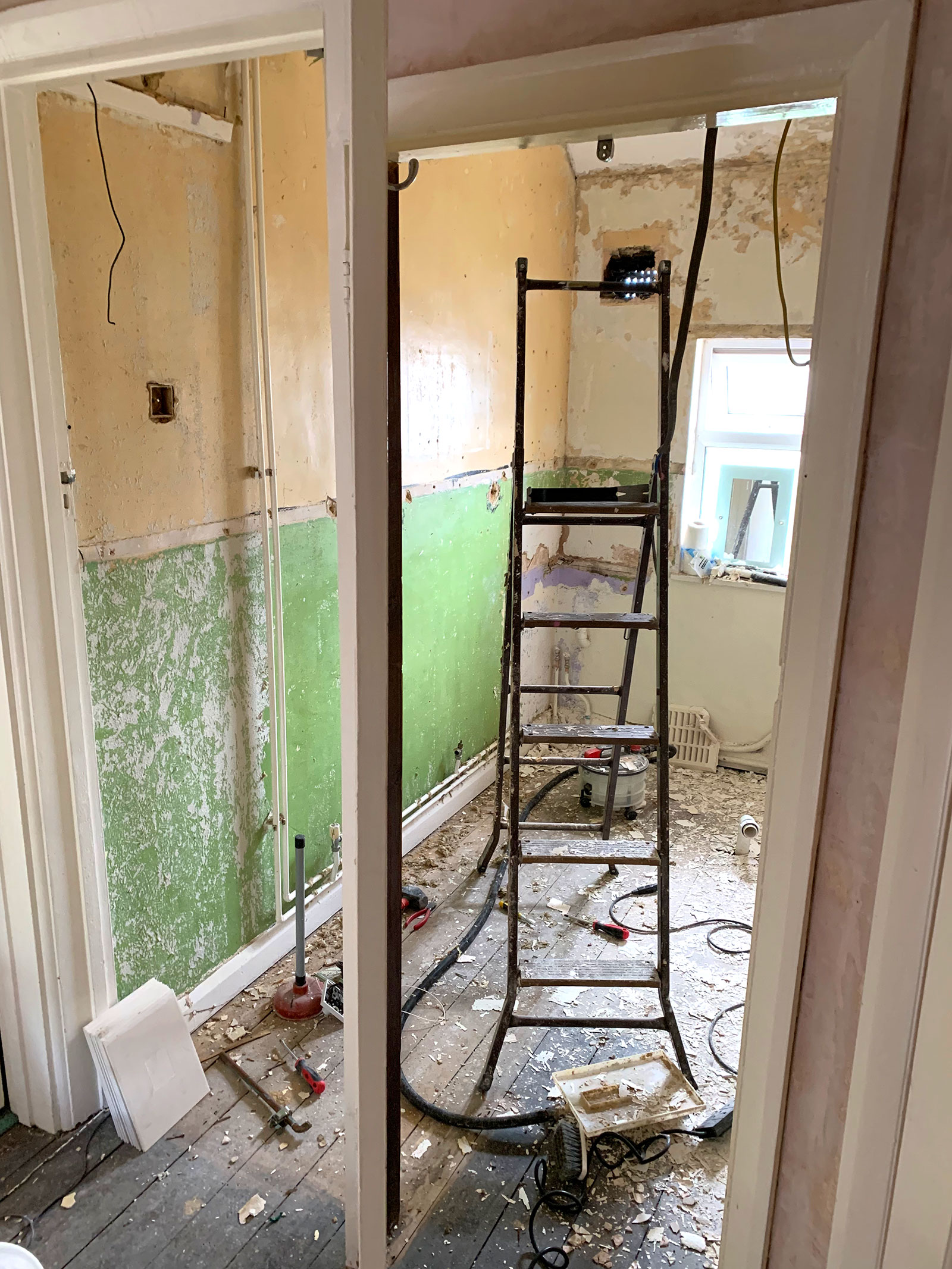 To do this job, ideally I wanted someone who could do the lot in one go rather than getting different people in to do it in separate parts. Again I had a good friend who does this kind of work and thankfully he had two weeks spare in his diary to fit it all in. Always thinking of the budget I did what I could to cut costs, so it was down to me to rip the old bathroom out and prepare it as best I could before the hard work began.
I have to say I really enjoyed ripping the cupboards and shelving out (there is something weirdly theraputic about destroying a room!). I had help disconnecting the bath, toilet, sink and radiator but I was left to strip the walls of tiles and wood chip which wasn't fun, but pretty soon it was back to a bare shell of a room.
On closer inspection it was clear that the tiled wall needed to be stripped back to bare brick and re-plastered, the room as a whole needed a re-skim too. To make the bathroom as maintenance free as possible I wanted floor to ceiling tiling, this would also add to the contemporary feel I wanted throughout the flat. The tiles I used were 60x30cm in size and had a light grey concrete effect which kept the room feeling light a bright with a slight industrial twist.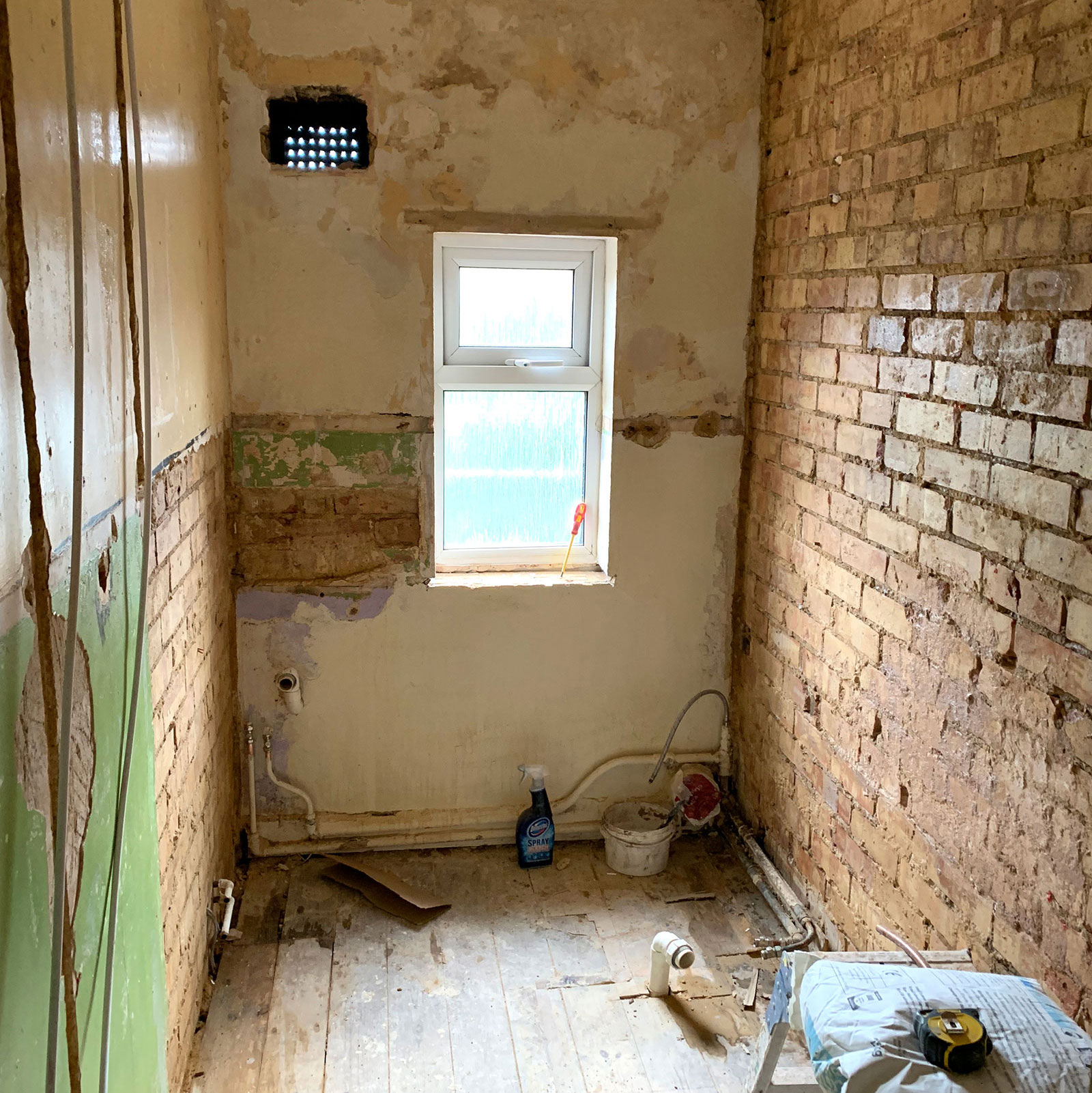 Getting things back to bare brick!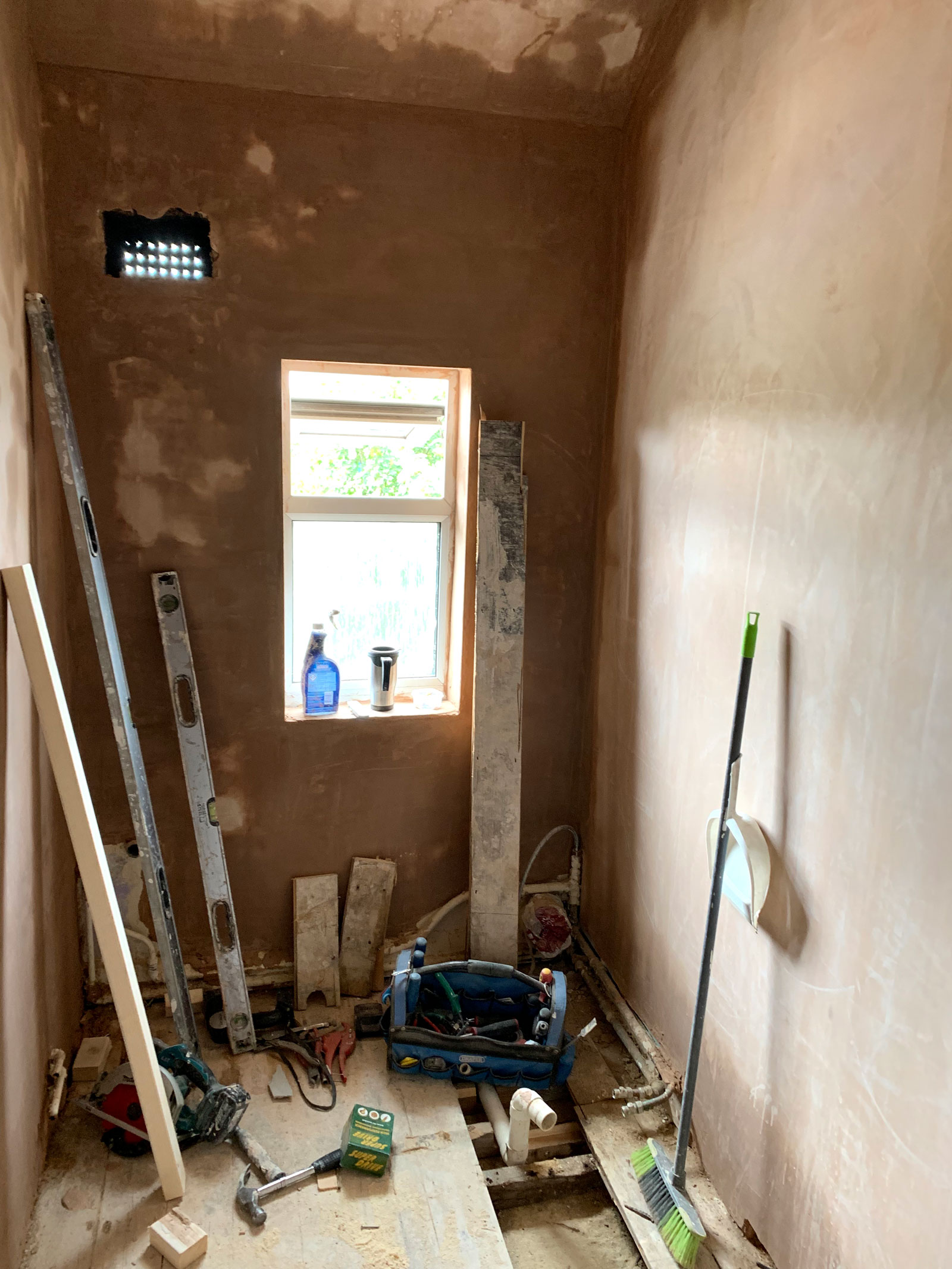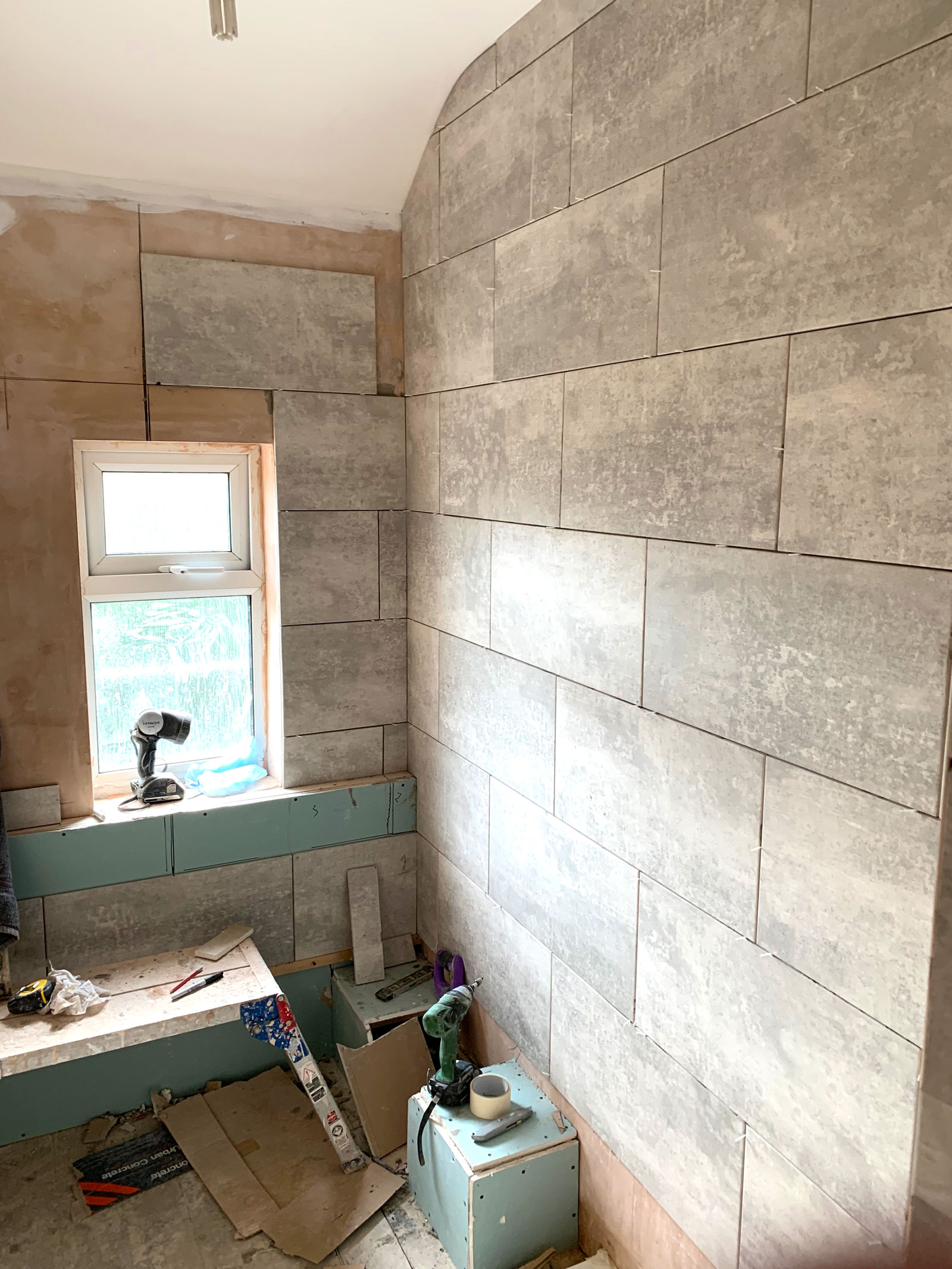 New tiles going on nicely.
Because of the size of the room I decided not to reinstate a both. I wanted to save as much space as possible and in the process make this room feel bigger than it actually is. This is part of the reason why I went with a shower unit. The other reason is because I don't really have baths anymore as I prefer to shower, plus showering saves on water too. More space was saved by rebuilding the cupboard but with half the depth. Doing this also gives easy access to the plumbing for the shower and still provides a little storage space.
I was advised to make sure that the budget was enough to buy a decent shower unit, one that was made with quality materials and would last. It's advice I took and I'm glad I did. Simple things like having a stone based shower tray rather than a plastic moulded one feels much better quality when your in the shower and it never flexes or creaks sparing any OCD tendancies I may have.
The shower itself is a simple but elegant design which adds quality as well as a contemporary feel. Because it replaces the bath means it could mains fed so no electrics to worry about. The main shower head produces larger droplets of water than a standard shower which makes it feel like your standing in the rain, its just a blissful, beautiful experience!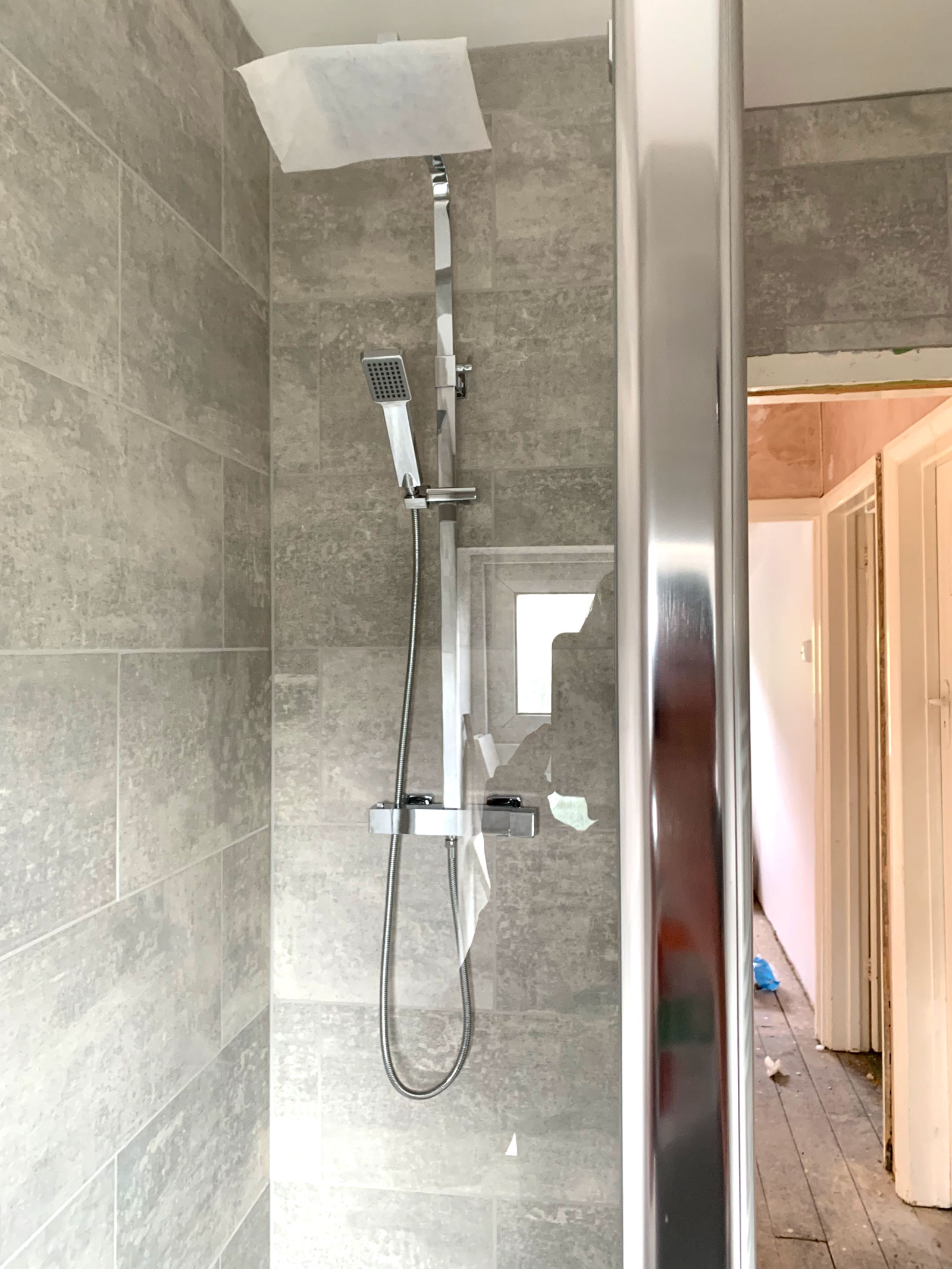 Shower unit now installed.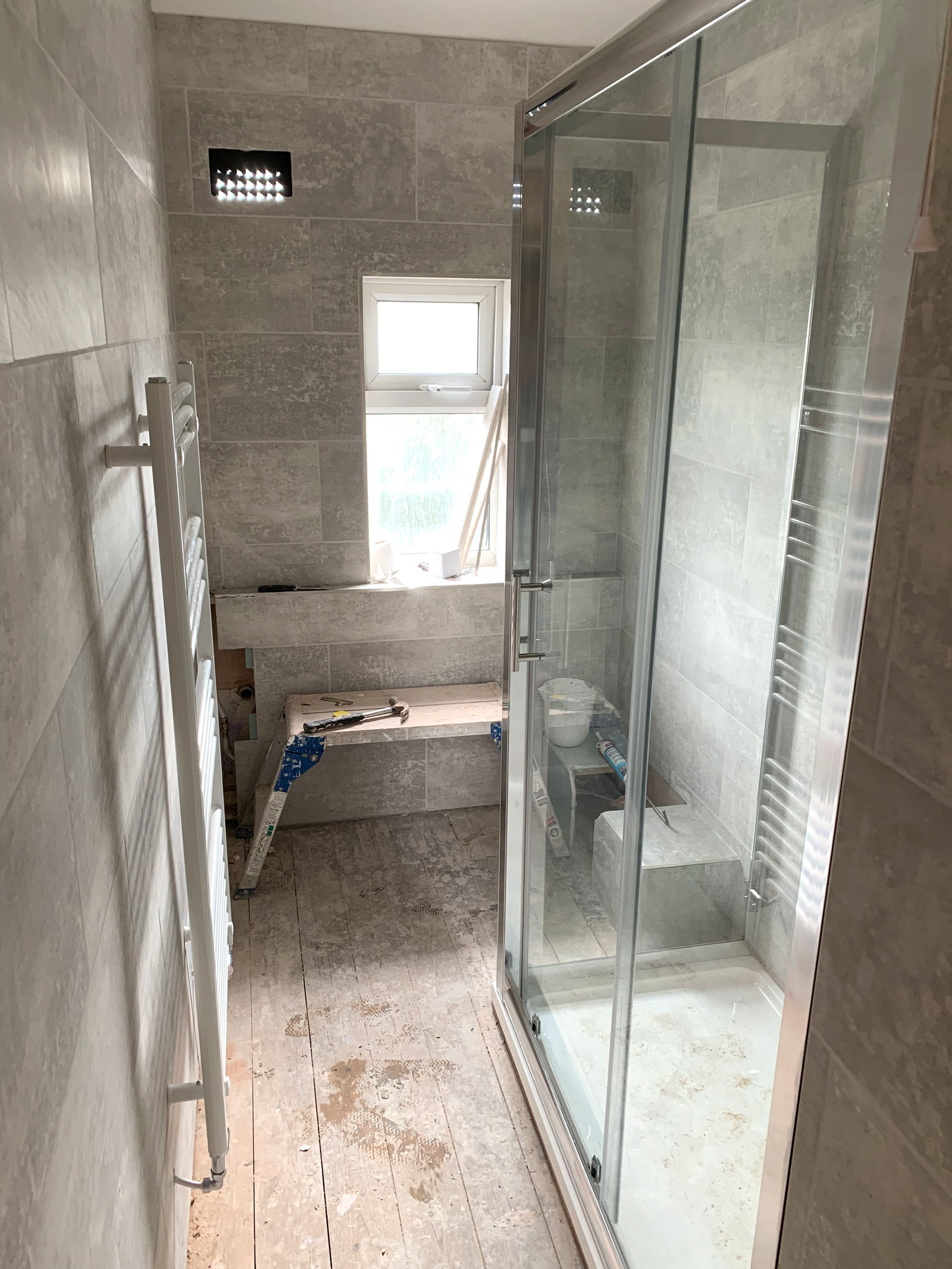 Towel rail radiator look flush.
Again, thinking about space and storage I went with a low profile slimline toilet (but still big enough to use) and a corner style sink that had an integrated storage unit underneath it, both of which work perfectly in the spaces they were allocated too.
Stripping the room back to bare walls also gave an opportunity to rethink the radiator. The pipework for the existing radiator was very unsightly as it ran on the outside of the wall from the ceiling to the floor and then along the length of the bathroom to go through the wall into the main bedroom. I wanted a towel rail style radiator to maximise usage for drying whilst saving space at the same time. All the pipework was carefully rerouted and hidden in the wall leaving it with a nice clean profile.
Like the Kitchen and the boys bedroom, the bathroom was fitted with two spotlights in the ceiling. This arrangement gives a good amount of light and adds to the clean, contemporary look the bathroom has been finished with. The room was completed within the two weeks it had been allocated, something I don't think would have been possible If I had separate people doing the different elements that this job required.
I feel very lucky to have a friend who is talented and qualified enough to have done this job in one hit, and what a job he has done!!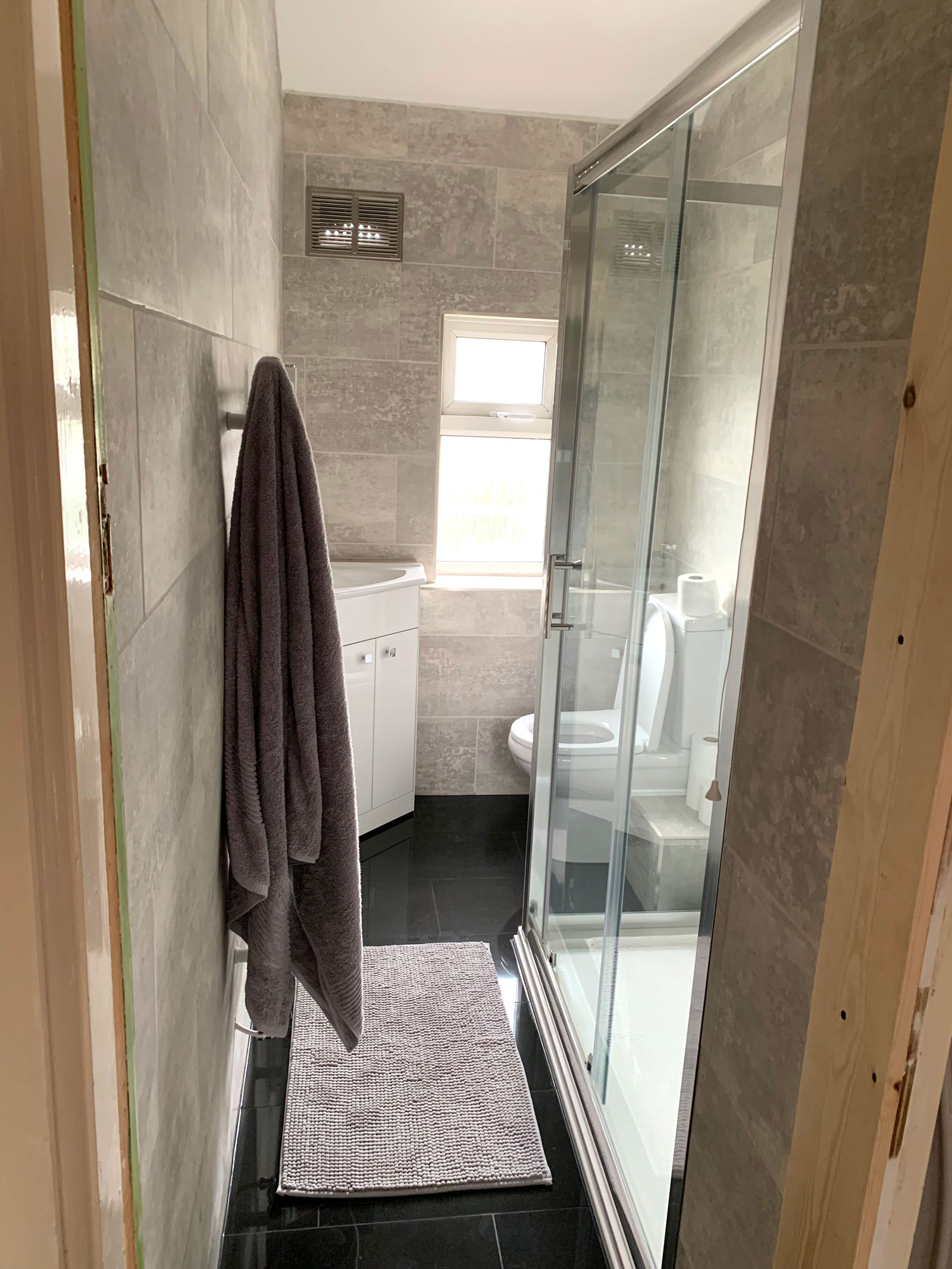 New shower room ready for use. 🙂