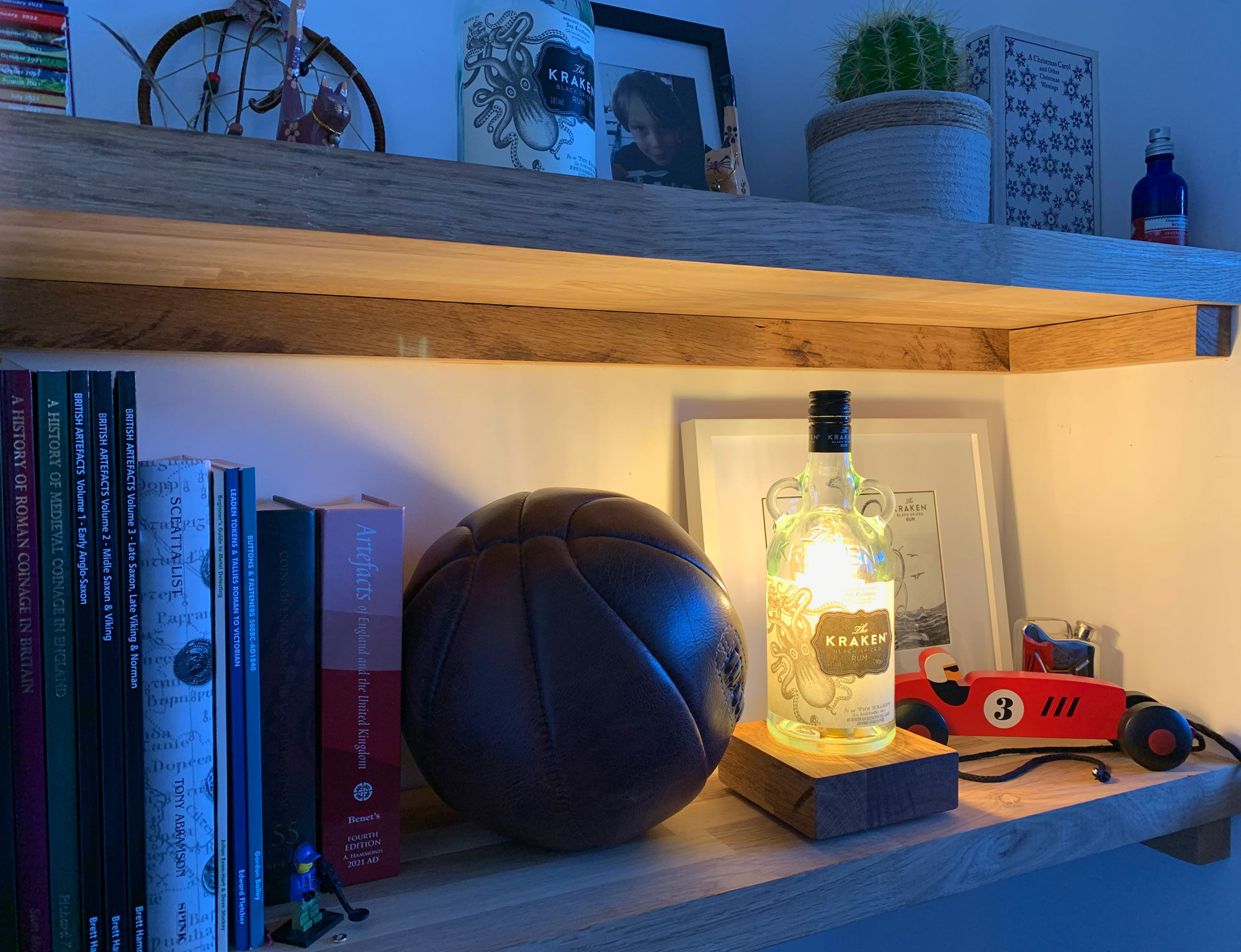 Last year I posted a blog called "Krakin' Kraken Lights" in which I made some shelf lamps out of old Kraken Rum bottles. They actually turned out better than I had hoped, so I wondered at the time if I might be able to transpose that idea into making some desk lamps. It's taken me a while to get round to making them but I'm pleased to announce that I have finally completed the lamp project and I think it's worked out really well!
In the same way as I did with the shelf lamps I cut out the bottoms of the bottles using a ceramic hole cutter which works so, so well. I had a vague idea of how the lamps would work and once I had it set in my head the whole thing came together quite nicely. It's basically the same principle as the shelf lamp. The remaining wood I had left over from making the shelves I cut down to make the bases for the lamps. After that there was a little extra work needed for wiring the lamp with a plug and a switch.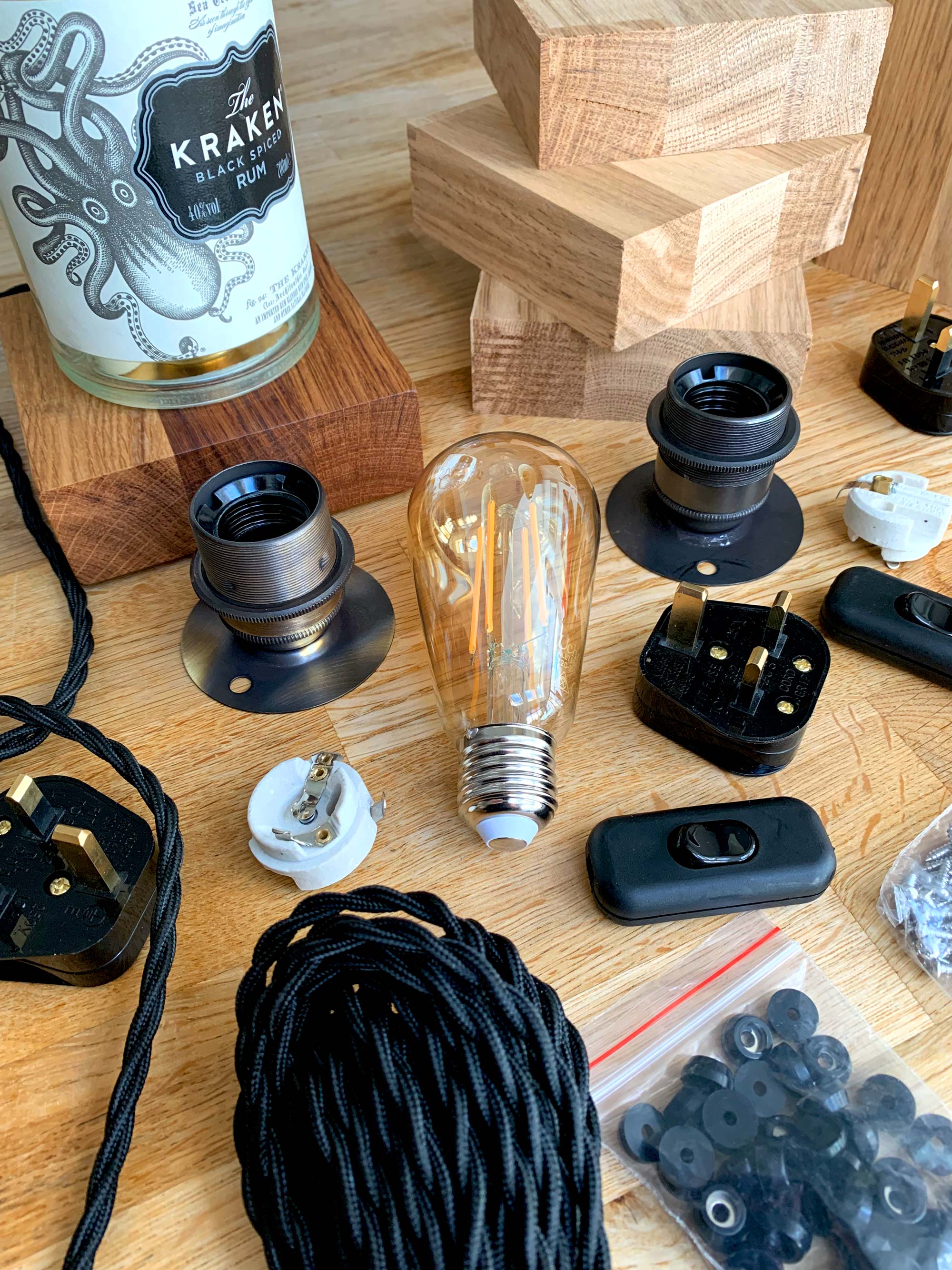 The sum of all it's parts!
I ordered the plugs, switches, cable and light fittings separately because I wanted to learn about the various parts as I put them together. I wanted to gain a good understanding of how these things worked. The whole process was fairly straight forward and very enjoyable. At the end of the project I had the lamp checked over and tested by a qualified electrician (if you're reading this Jez, thank you!) just to make sure my handy work was safe! Safety is the reason I used a 3 core wire, because the light fitting is metal it needed to be earthed. I used a braided, twisted fabric 3 core cable to give the lamp a bit more of an authentic vintage feel.
The only problem I had design wise with this lamp was making sure that the bottle was somehow secured to the base. Leaving the bottle loose in a position where it might get knocked over didn't seem very practical. This left me scratching my head for quite sometime. I thought about various different ways but nothing really seemed like it would work, but then as I was sorting through some old bits in a drawer the answer appeared.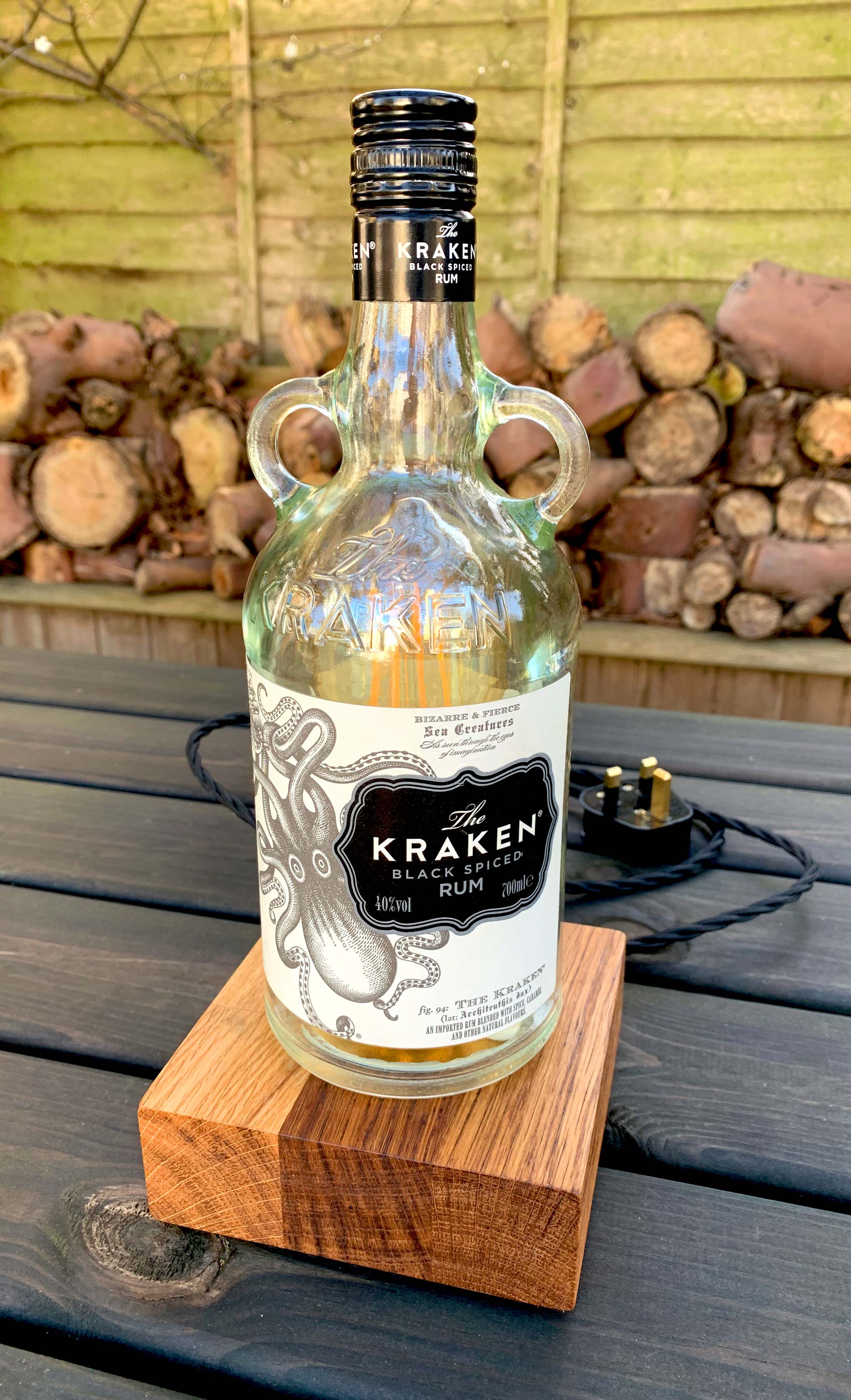 What a Krakin' looking lamp!
I came across what I think are rubber furniture feet, the kind you would find on the end of the legs on a wooden bar stool or something similar. I found that when I secured them in an inverted position to the base of the light fitting that they were just the right size to grip the bottle as it sat over the light. They gripped so well that you can actually lift the lamp intact by picking it up by the bottle, problem solved! I have used an LED Edison style bulb just so the bottle doesn't get hot and to keep with that vintage look and feel.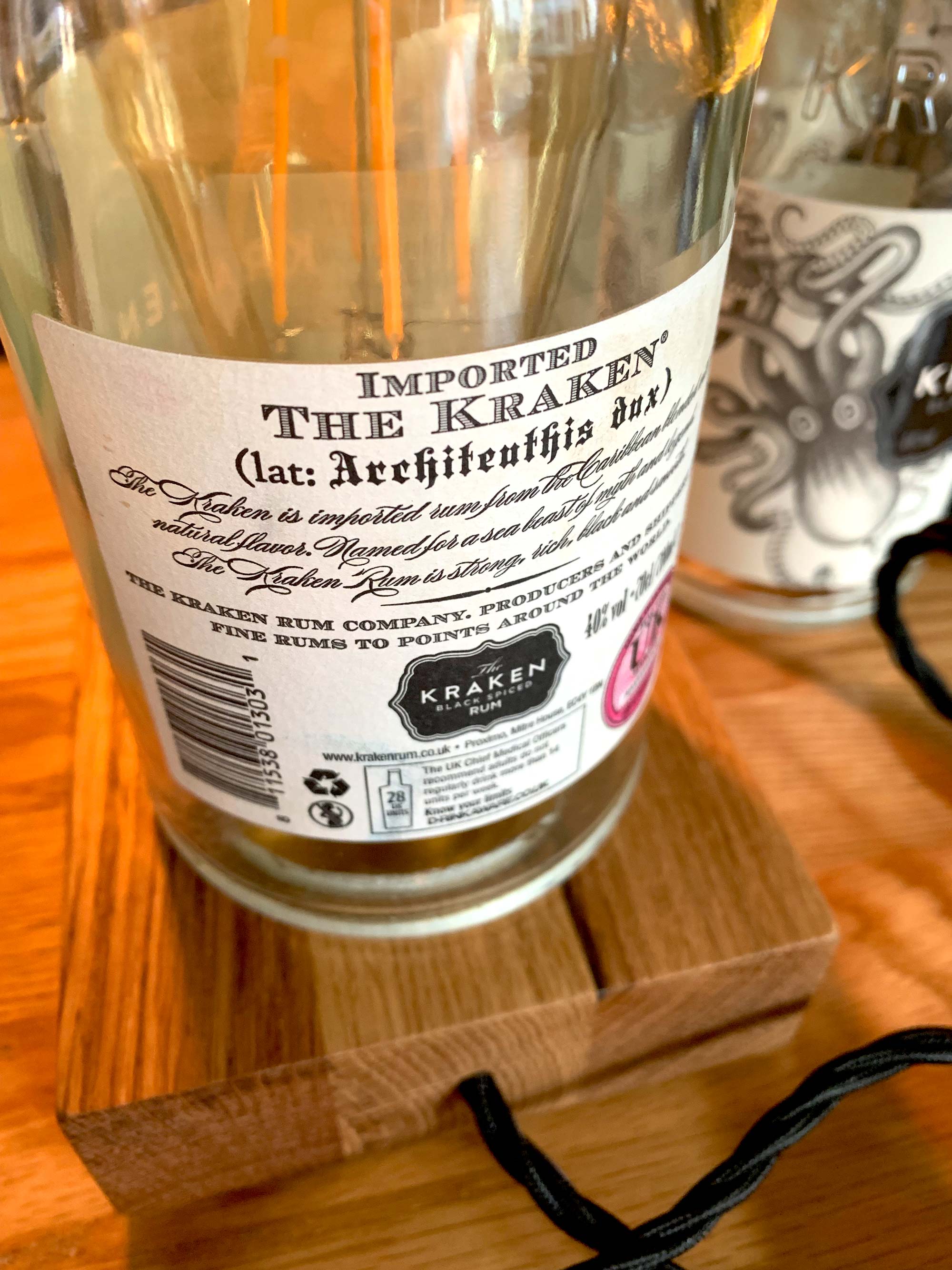 Simple, clean and tidy wiring.
With the lamp complete I felt compelled to create a little brand logo to go with it, to really finish off that authentic vintage feel. Being a graphic designer I do like to set myself little design projects like this now and then, so 'The Light Distillery' was born, 'purveyors of quality luminaires' no less!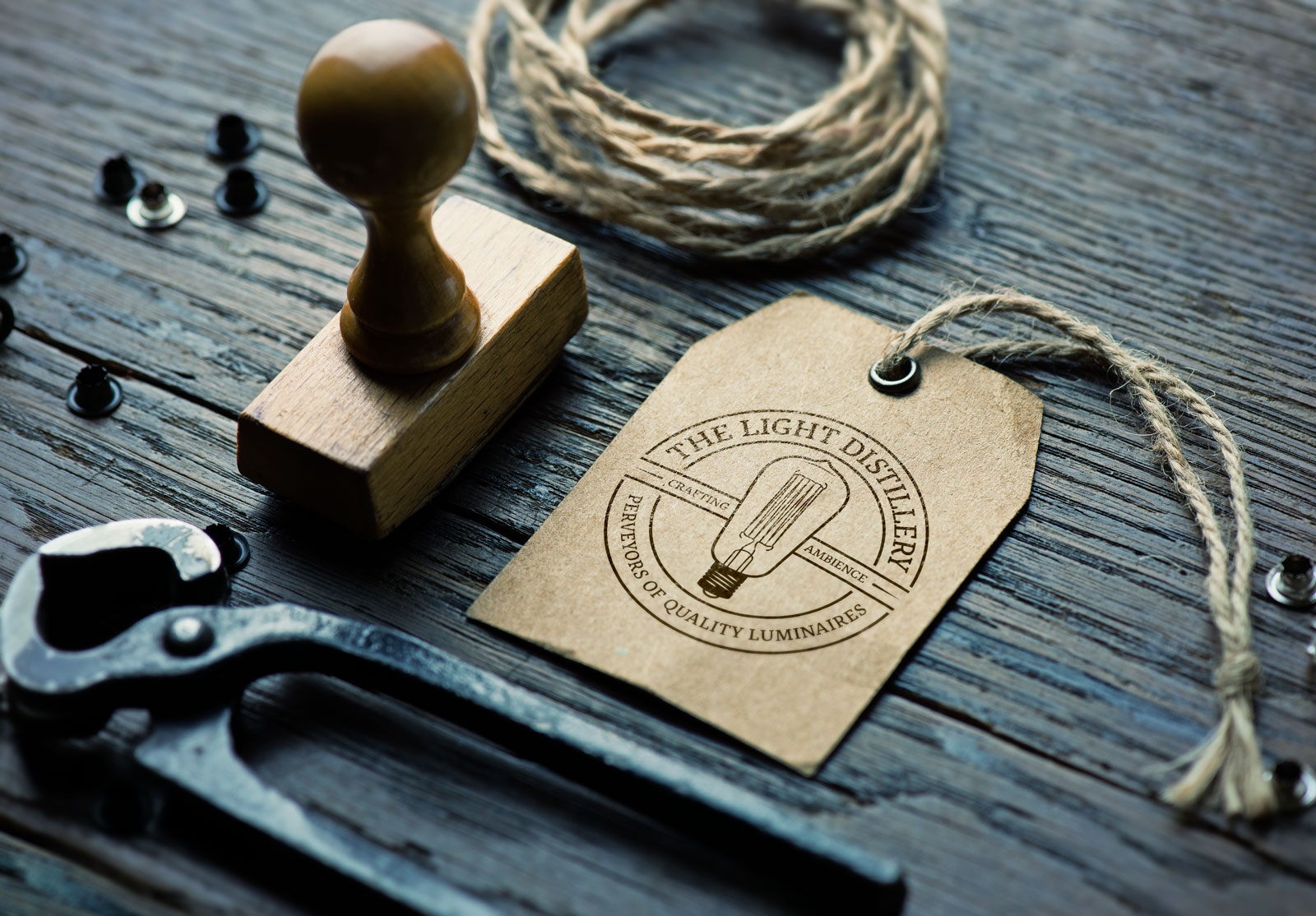 Looking like a proper vintage brand!
Completing this little project has really got me wondering how far I can take it, maybe a bespoke service turning peoples favourite bottles into vintage lamps? I mean, the amount of spirit bottles that can be turned into one of these lamps is endless, Gin, Rum, Vodka, Whiskey… the list goes on. I think some research into selling home made electrical goods is in order!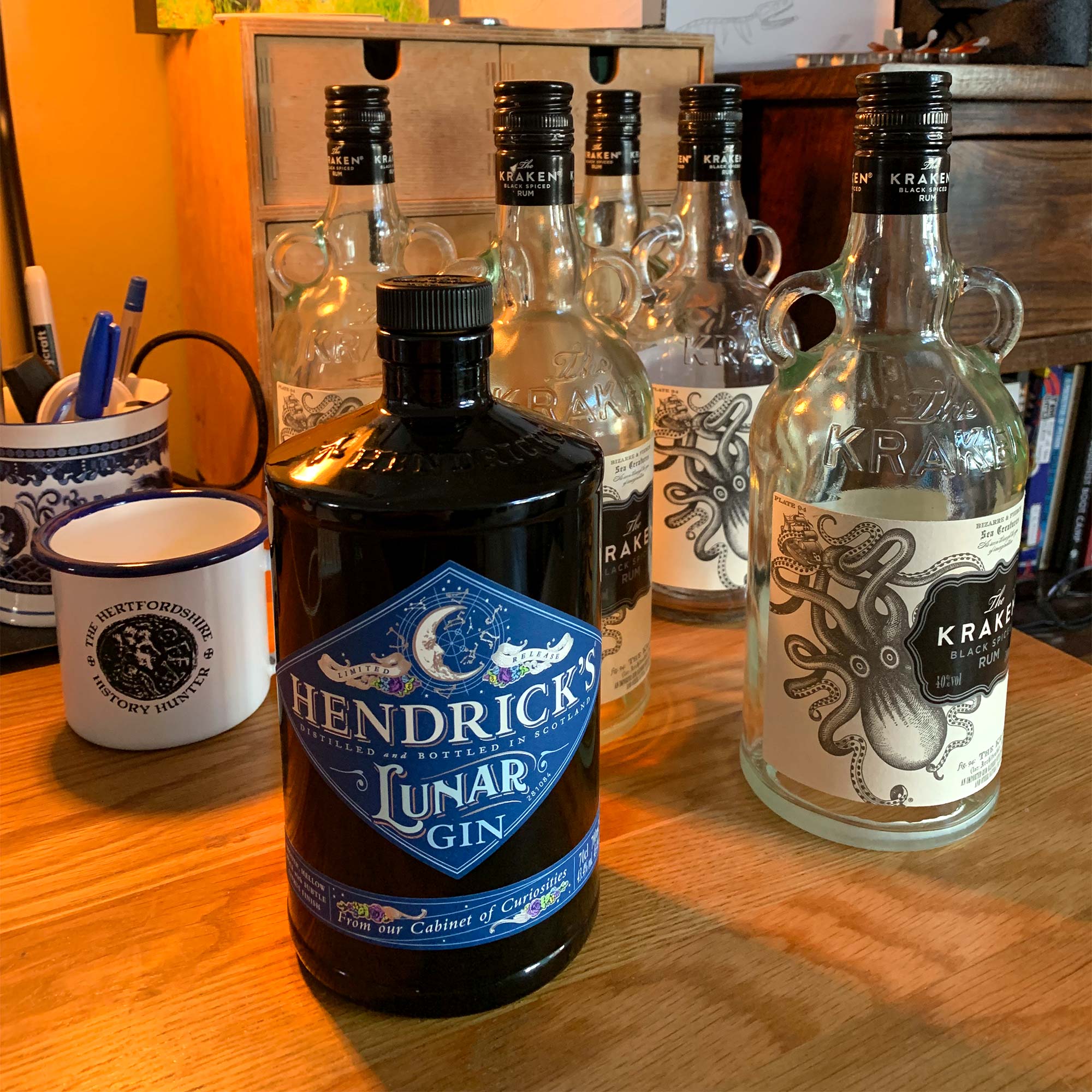 Lunar Gin will make a perfect Night Light.
news update
Above I suggested that the Lunar Gin bottle would make a great night light. Well that idea has come to fruition and it has indeed made a great night light. This was actually a gift for my better half so I had a personalised version of The Light Distillery logo laser etched onto the solid oak base which has turned out really well. Hopefully there will be many more variants on The Light Distillery bottle lamps to come, watch this space!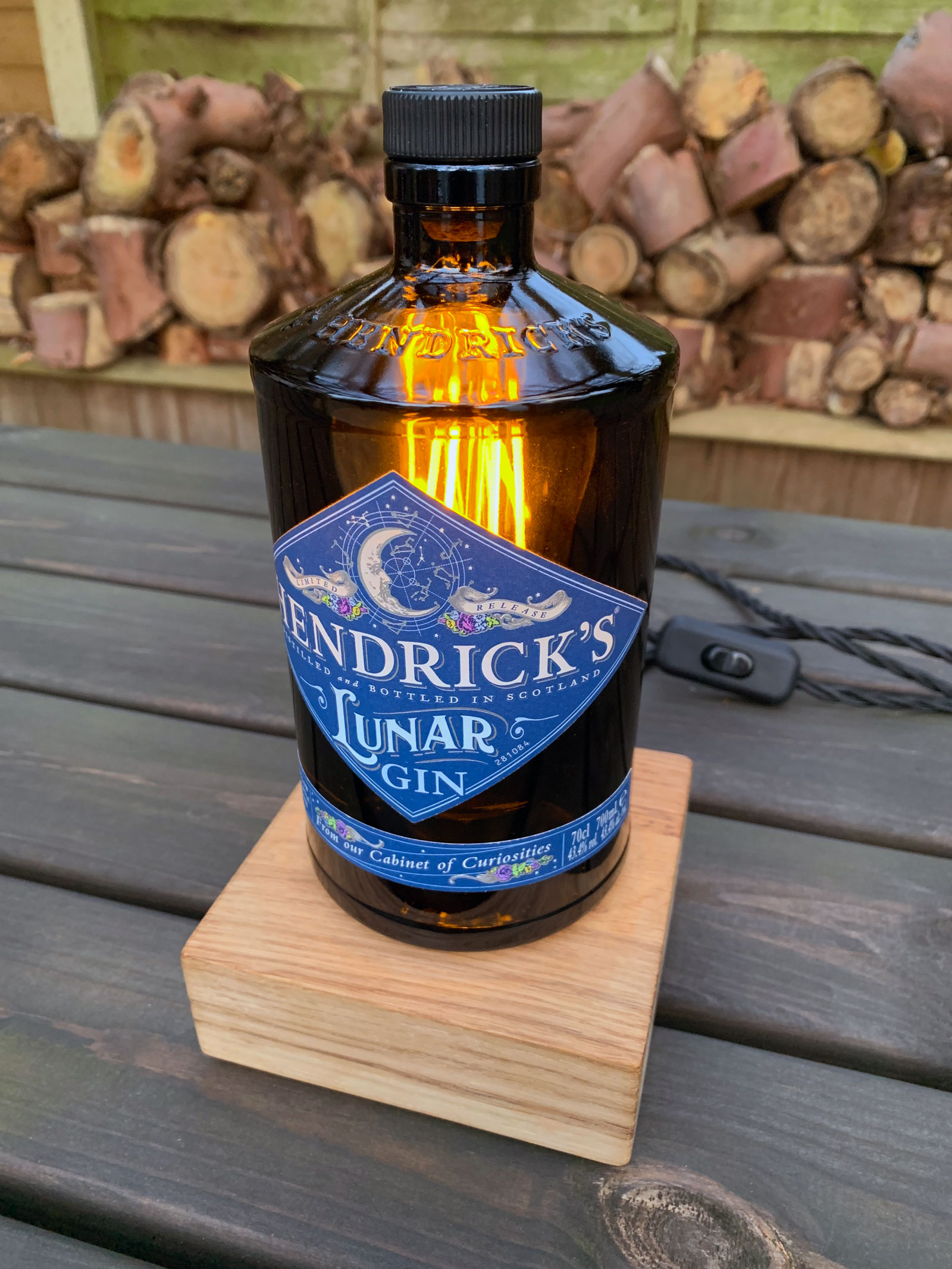 A comfy, warm, orange glow.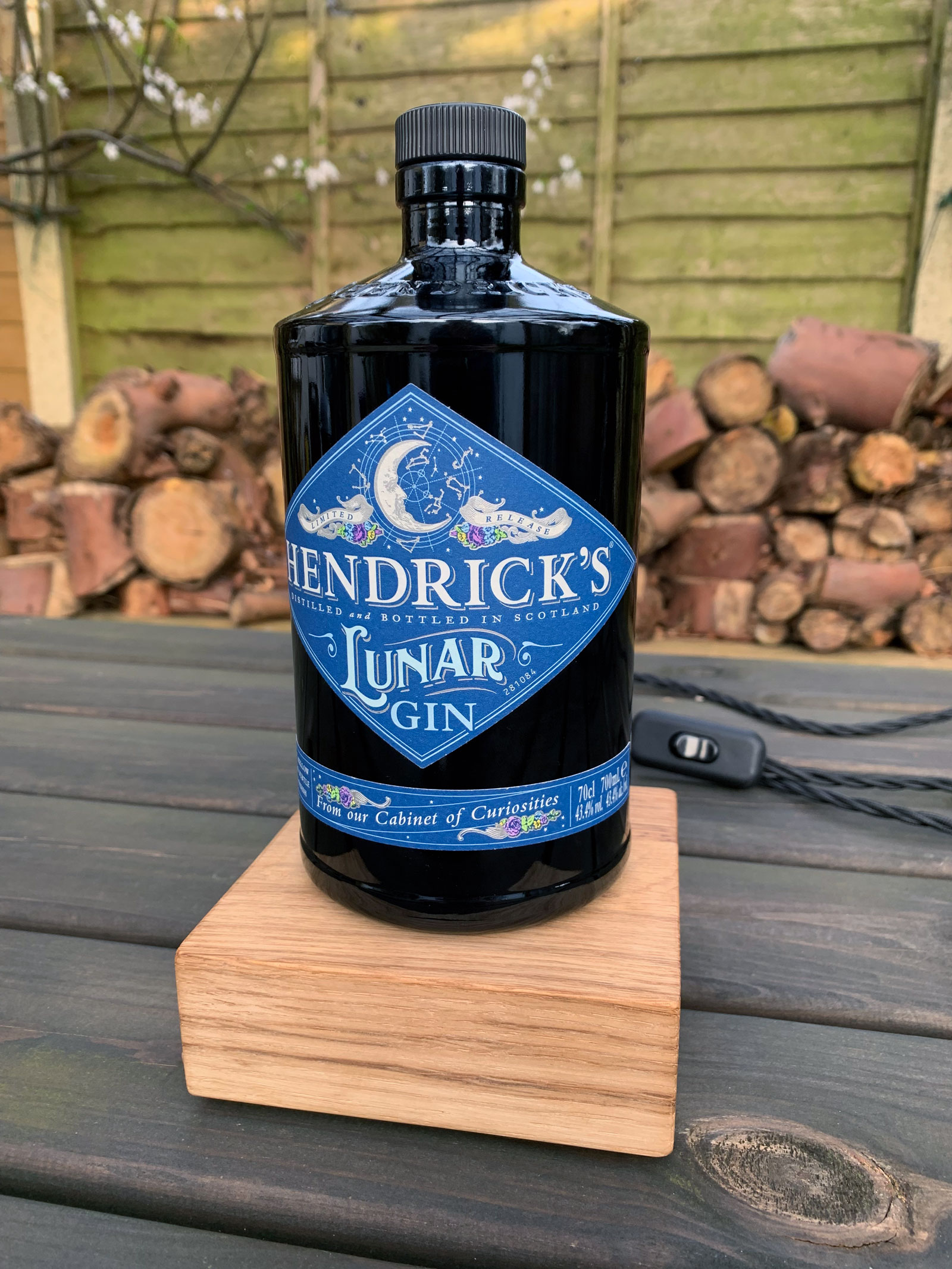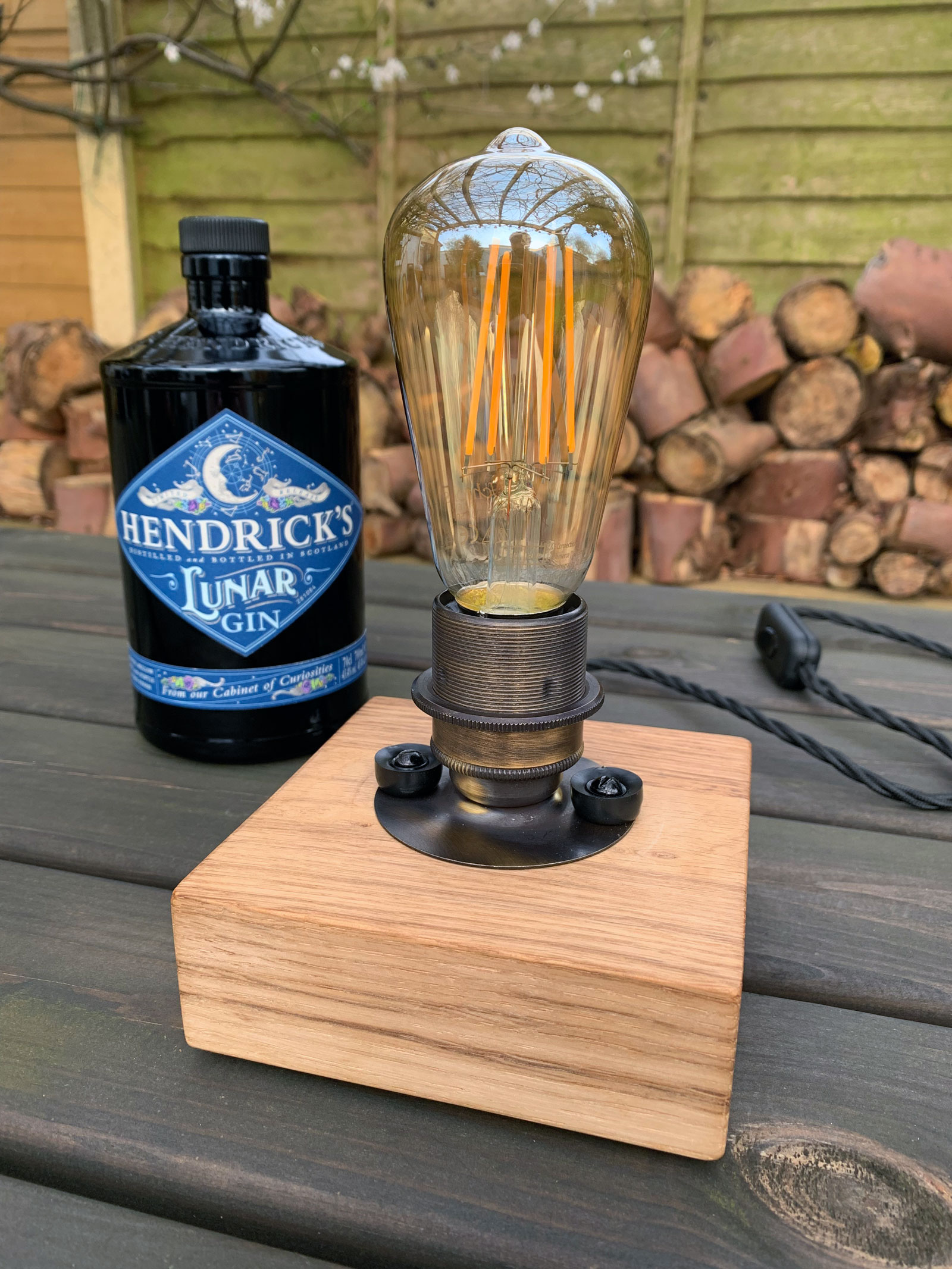 Beautiful, vintage simplicity!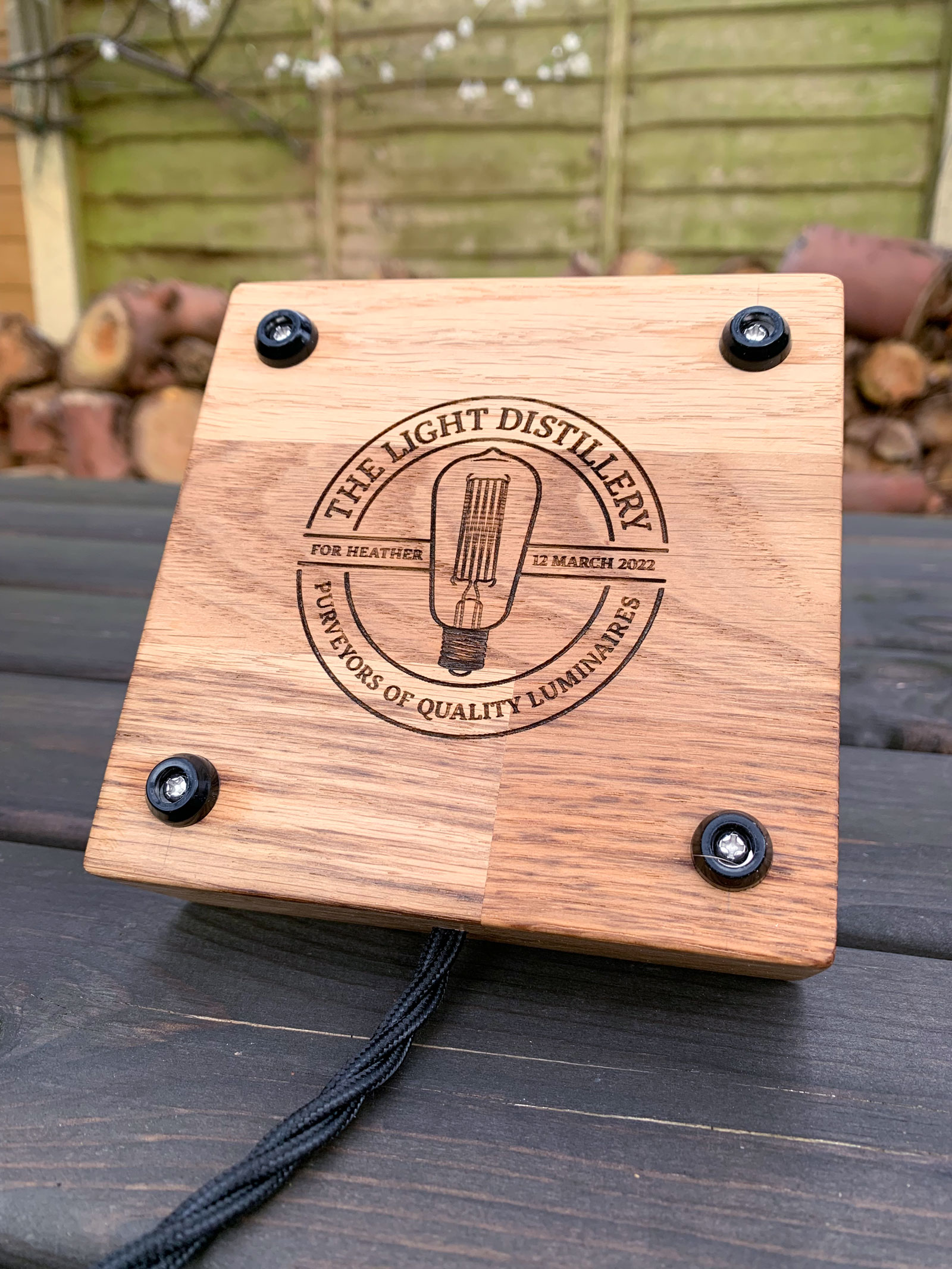 Quality laser etching right there!