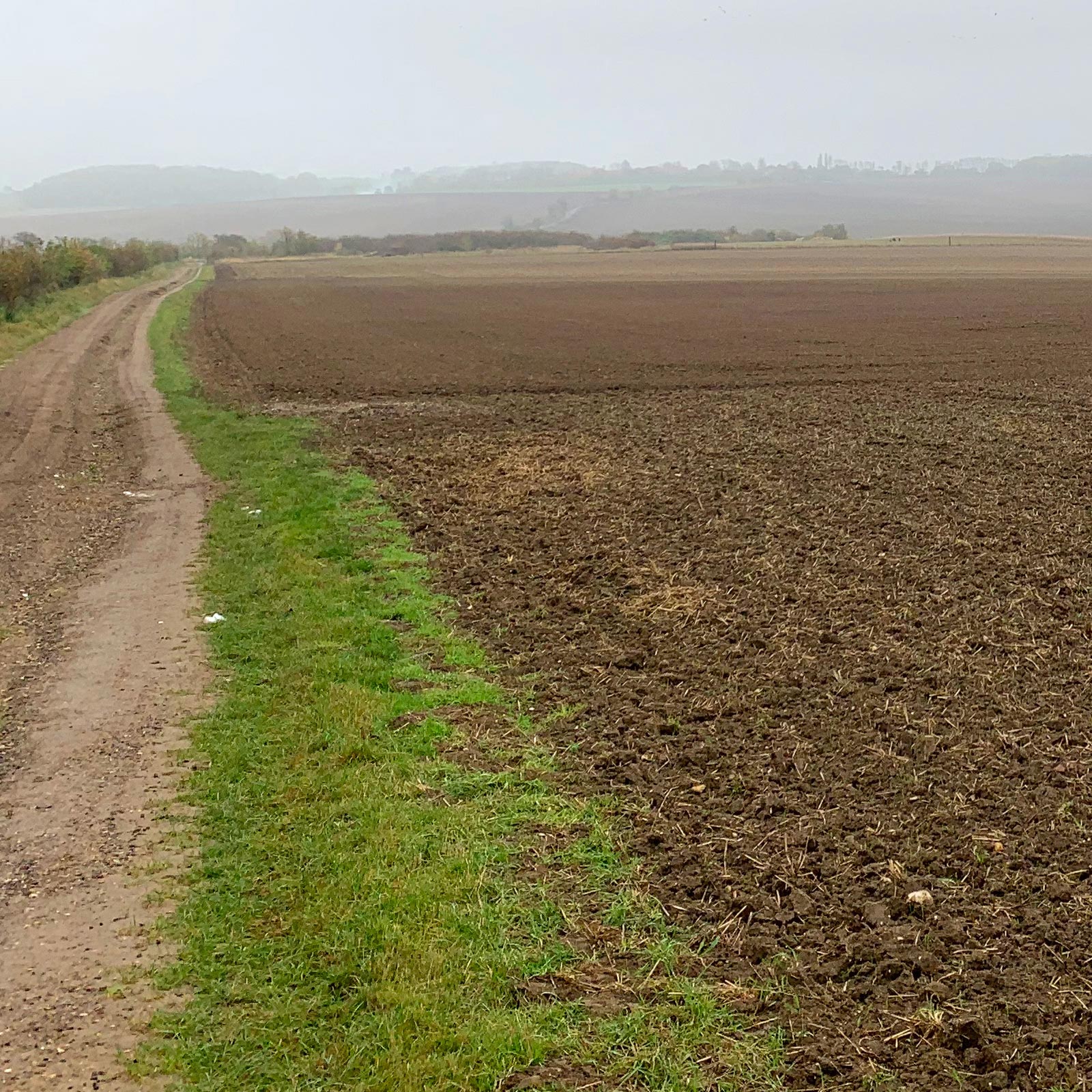 where have all the finds gone?
One sunny winter's morning, I was standing with a friend on his permission, in the gaze of the late bronze age hill fort of Arbury Banks, (a Scheduled Ancient Monument) looking out over the site of a suspected Roman villa complex. From my view point nothing could be seen but fields, but I knew what lay beneath because during my research I found some old aerial photograph's of the area which revealed what appeared to be the ghost of a Roman villa.
My friend made a comment about this permission before we went, he said "it's a great place but it has been detected to death". Alarm bells always ring when you hear a comment like that but it's because of this and the subsequent outings on this permission that I feel compelled to write about it, as it left me with a certain amount of dissatisfaction. I know all too well the feeling of researching a site and then having expectations which are then ultimately let down, maybe I should learn to curb my enthusiasm in the future.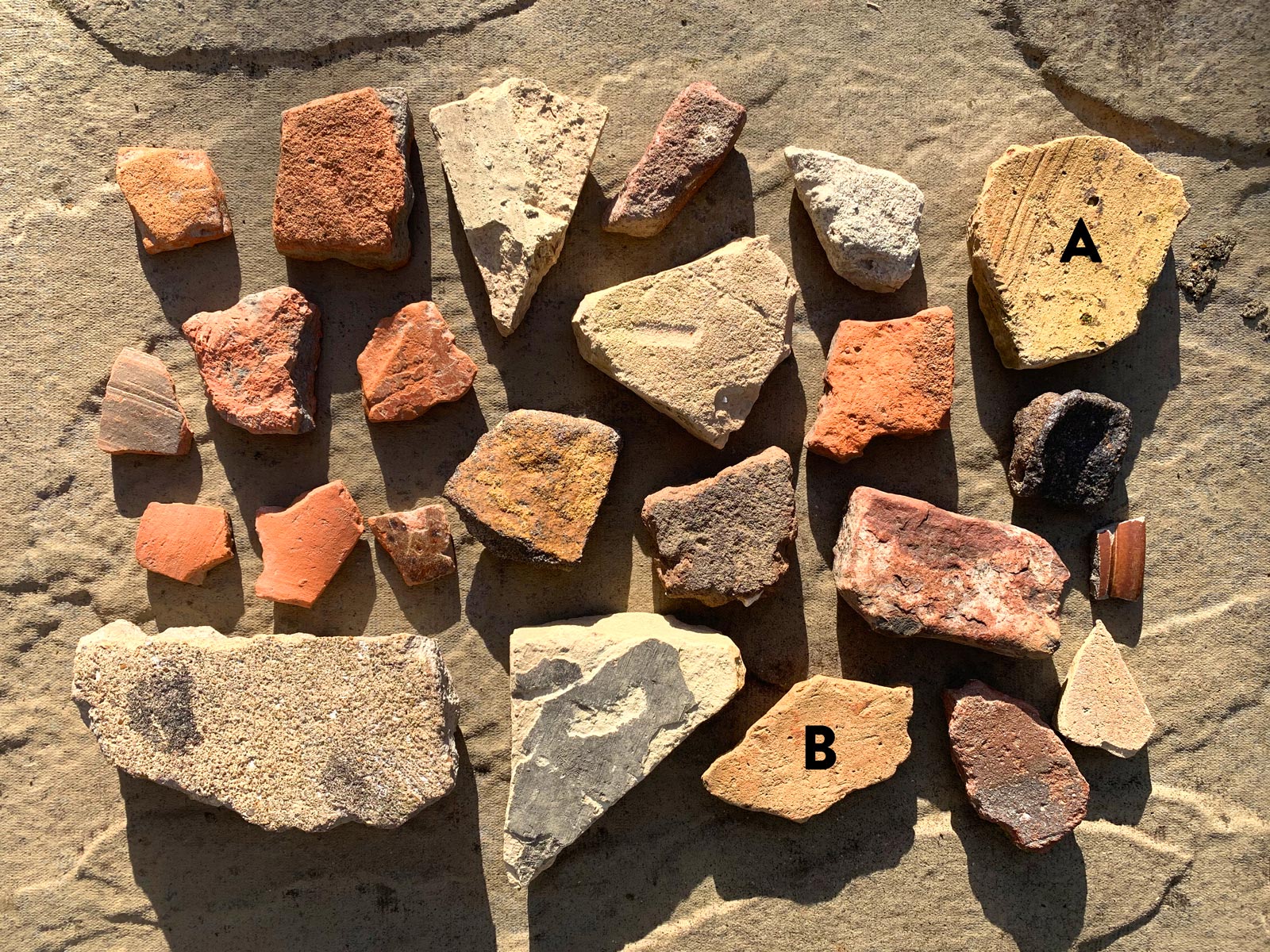 Fig.1 A & B are sections of Roman Amphora.
Much like the surveys I did for Keith at North Herts Museums I was full of excitement at the prospect of finding roman coins and artefacts but also like those surveys the roman finds were pretty much non existent, so were the Iron Age ones for that matter! That's not to say there were no finds, of course there was as you can see from the pics I have included, but even those were few and far between. The clues were there because as well as the aerial photo's, I also found some Roman pottery, specifically broken parts of Amphora (Fig.1), the containers Roman's used for transporting goods such as wine and oil.
This got me asking questions and I wanted to find out more, how could a site like this produce nothing Roman, unless like the Purwell Roman site it had been hawked and cleaned out over the years. So where to start? I figured the best place would be the photo which I found online that shows the outline of the villa complex itself. If I could find out the date the photo was taken then I could use that as the base of a possible timeline from when this site was publicly known about and subsequently detected on.
The photo was attributed to The Cambridge University Collection of Aerial Photography (CUCAP), so I contacted them to see if I could find out anymore information. Professor Tom Spencer was kind enough to reply and supply me with the information I needed. It turns out that this particular photo was taken on 7th May 1976 (click the link above to view), but there were two other photos of this site which I enquired about and they had been taken in 1971 and 1972 respectively also showing the villa outline.
Another interesting feature to note is the shoe-shaped anomaly at the bottom of the photograph that isn't marked up on the map shown in Fig.2, as it's not part of the villa complex. It's most likely the ditch of a completely ploughed-out Neolithic long barrow.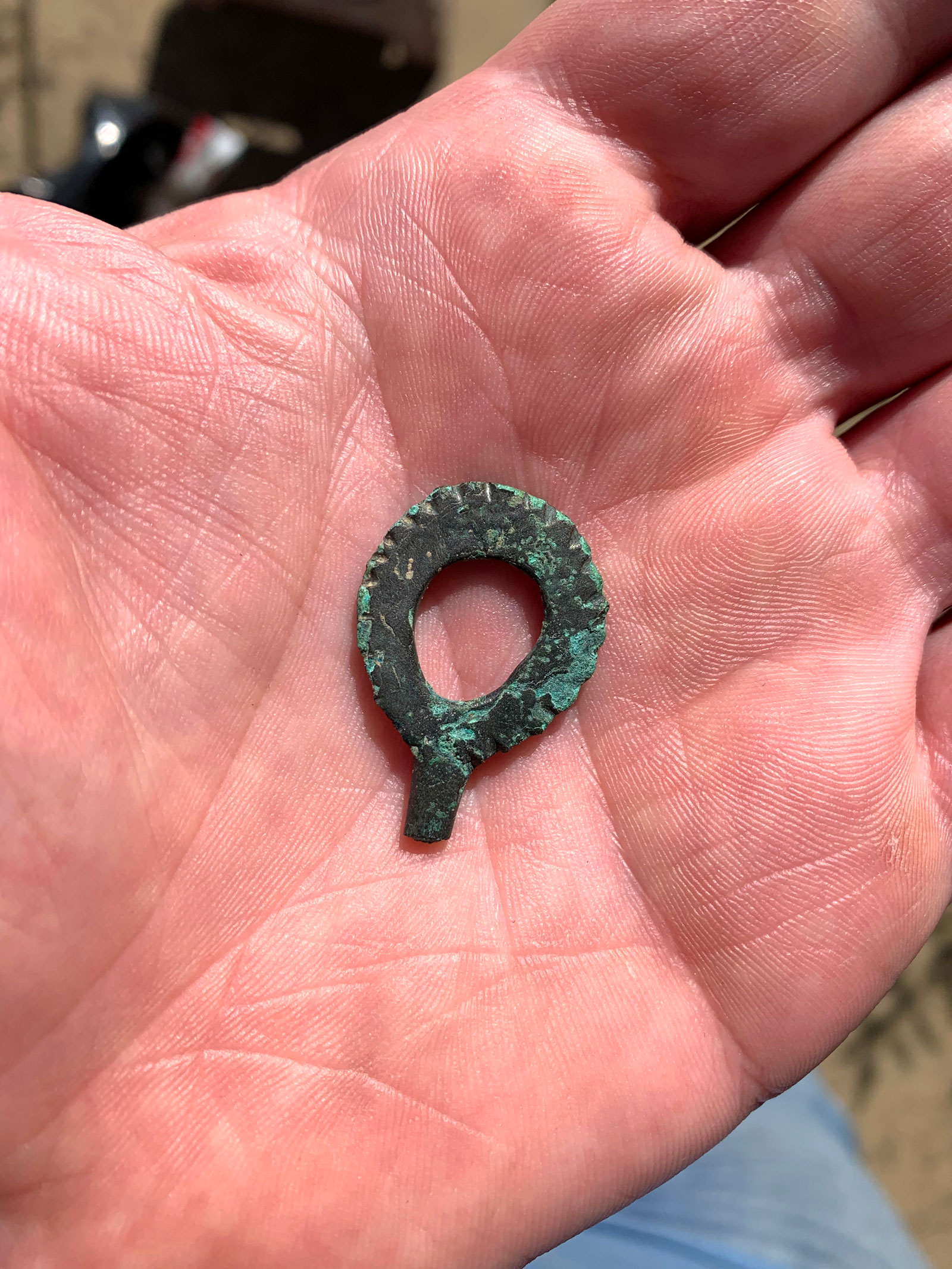 Side 1 of a possible key handle.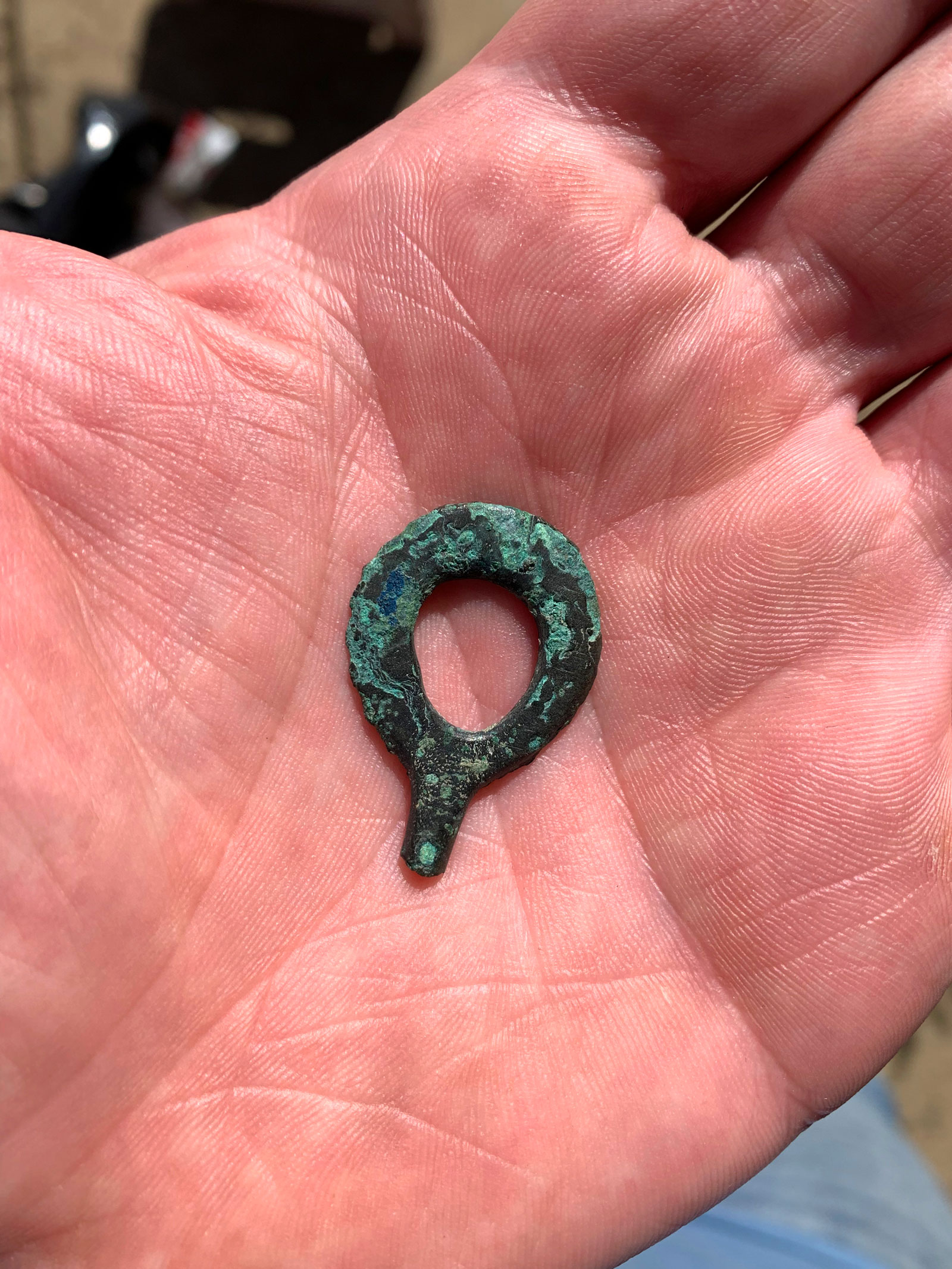 Side 2 of a possible key handle.
I think it's a fair assumption that this site would have been an undeniable attraction for budding detecorists right from the very beginning's of our hobby in the early 1970's. Such was the growing popularity of detecting back then that towards the end of the decade the 'STOP' (Stop Taking Our Past) campaign was launched, because there were some in the archaeological community that had their concerns about metal detecting and how historical items were being removed from sites and not being properly recorded.
This is partly because the rules and regulations we have in place today weren't in place back then. To gain some insight into how the rules of the hobby came in to being as they are today, I had to do a little more research.
Back in 1979 there was the Ancient Monuments and Archaeological Areas Act which was to consolidate and amend the law relating to ancient monuments to protect the archaeological heritage of England & Wales and Scotland. In 1980 the National Council for Metal Detecting (NCMD) was born providing representation and a forum for responsible detectorists up and down the UK. Then the Treasure Act of 1996 made it a legal obligation for finders of objects which constitute as treasure (as defined in the Act) to report their finds to their local coroner within 14 days. The following year (1997) the Portable Antiquities Scheme (PAS) was founded to record our finds and the rest as they say is history, quite literally!
So potentially this site has been detected on with no recording of finds from at least 1971. Any finds made from 1996 would hopefully be available from when the Portable Antiquities Scheme was set up. Potentially that gave me 26 years' worth of info on finds that have been made from this site, brilliant, so how do I access all that info?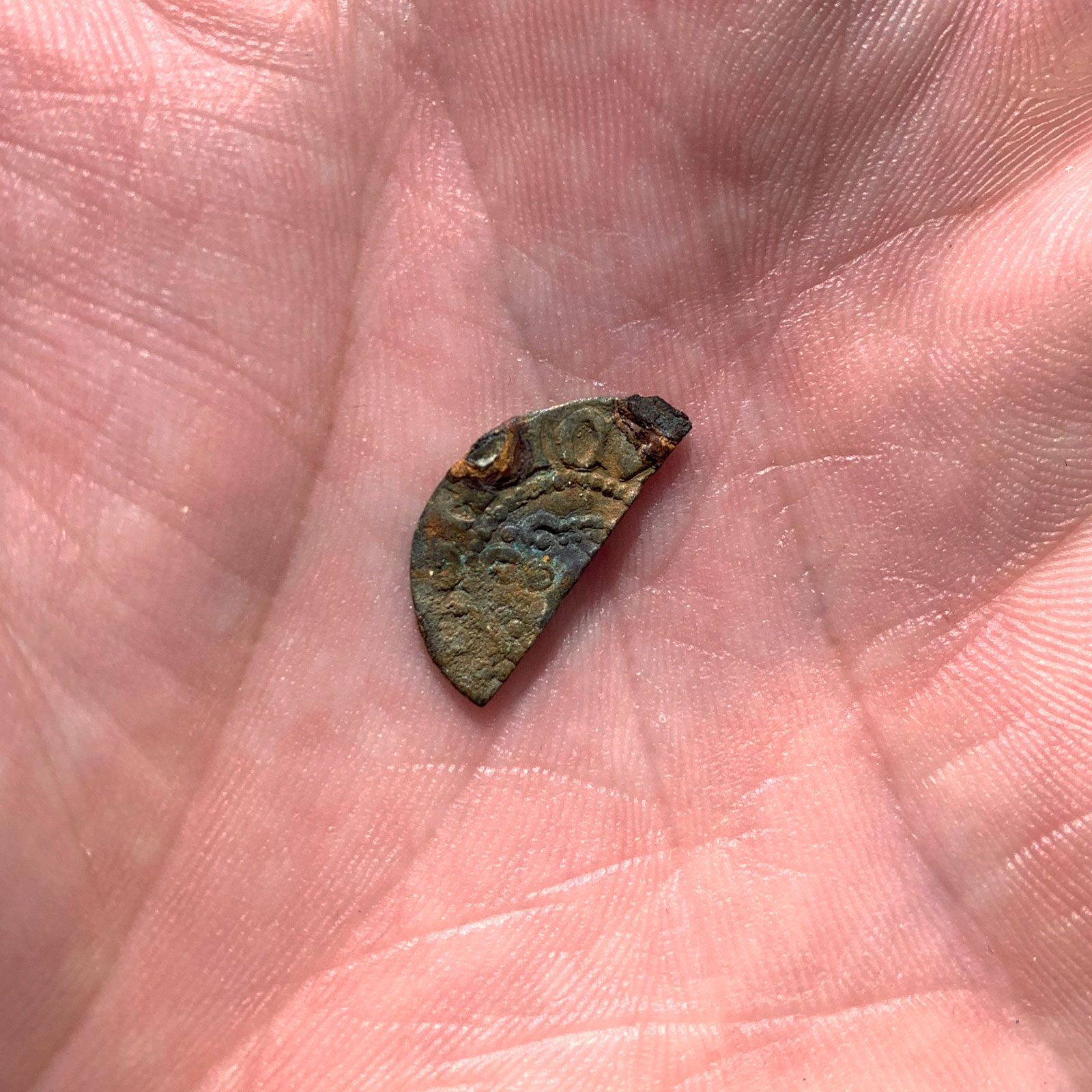 Henry III cut hammered obverse.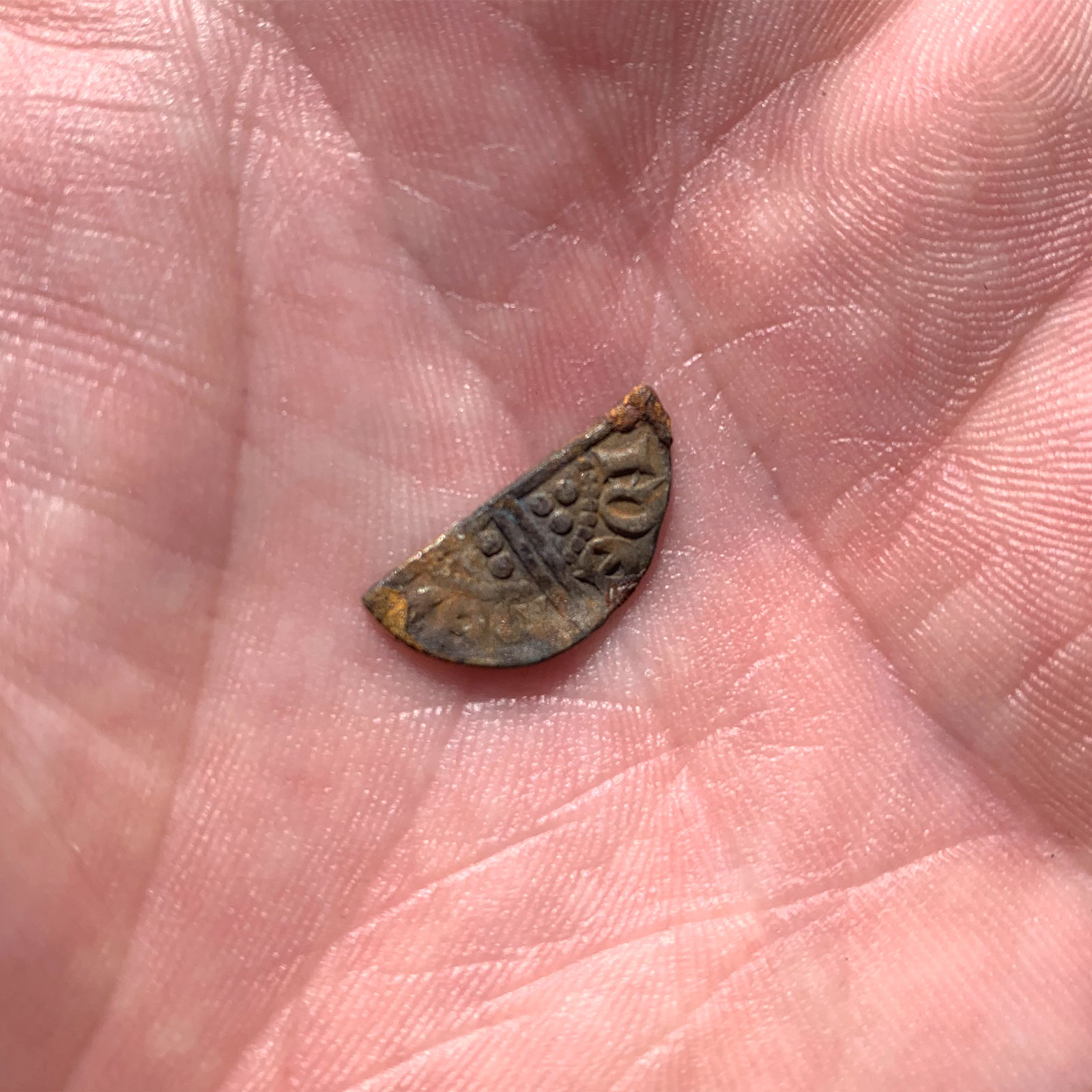 Henry III cut hammered reverse.
It's at this point I contacted my FLO Matt Fittock who has always been so helpful in answering the many questions I have put to him since starting the hobby again. I asked if there was a way to use the PAS data base to find out what finds had been recorded in a specific area. He said the best way to search the database is to go to the advanced search option, then enter a grid reference under the spatial details section. Because this way of searching is based on a specific grid reference, if anything has been found and recorded within that reference then it will show up. Guess what… nothing came up!
I was dumbfounded, not one single record, Roman or otherwise is listed on the PAS data base as coming from this site. To give you an idea of the scale of this, I overlayed the km2 reference in yellow on the map of the villa site as shown in Fig.2 which was kindly provided by Keith Fitzpatrick-Matthews at North Herts Museums. How is it possible that no finds have been recorded if this site has been "detected to death"?
This really left me scratching my head, what am I missing? Perhaps this site isn't a Roman villa after all? This lead me to asking more questions, the main one being what is actually known about this site? Once again this meant contacting Keith at North Herts Museums to see if he could give any insight into what this site could actually have been.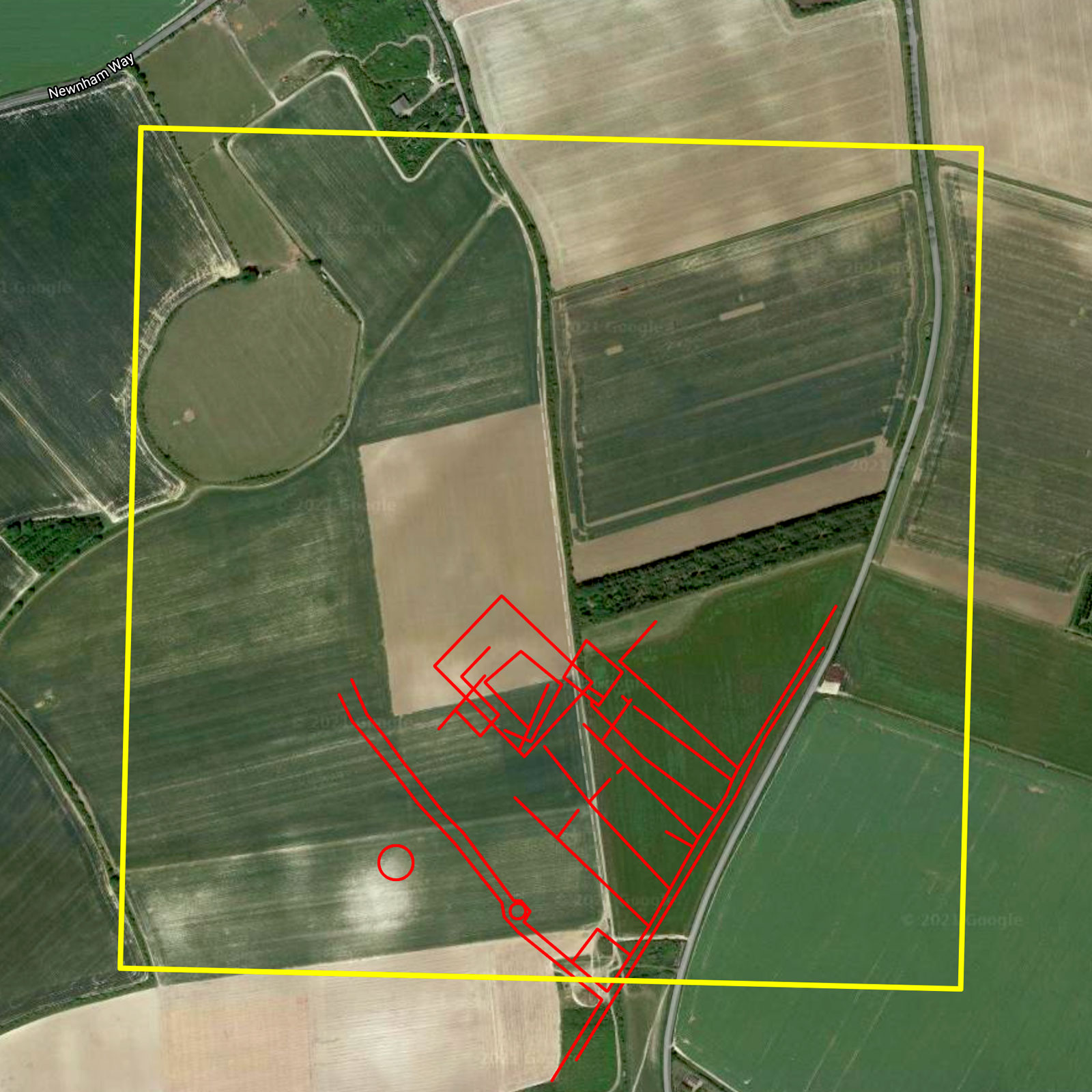 Fig.2 Map of the villa complex.
Keith was yet again very kind and generous with his replies to my questions, the first one being…
What evidence is there that this is a Roman Villa?
The evidence that it's Roman comes from the morphology of the site. These large rectangular enclosures, often with a ditched road leading into them, are typical of Roman villas in the northwestern provinces. Although nothing proving a Roman date has been found on the site, the layout, and the fact that a ditched road that comes through Bygrave and heads for the Ashwell area passes alongside the eastern edge of the enclosure and has a junction into its southern side strongly point to its date.
What archaeological surveys have so far taken place on this site?
No archaeological work has taken place on the ground. As the site isn't Scheduled, it may have been detected on quite legally many times before the PAS was set up, so we'll never know if anything was found there before 1996.
What type of villa would it have been?
Given that the aerial photographs don't show anything that's definitely identifiable as wall foundations, it's impossible to speculate on the form of the villa building. The lack of stone foundations may mean that it was a relatively modest timber-framed affair (although timber-framed houses can be large and impressive). It may also be the case that they simply have never shown well enough to enable a plan to be deduced.
My feeling is that it's a successor to Arbury Banks. There is good evidence of Late Iron Age occupation there and although some Roman material has been found there, the site seems no longer to have been domestic after the conquest (indeed, it had been going into decline from the start of the first century BC, as Baldock developed as a town).
Who would have lived in a villa of this size?
As a place that was once the seat of a local warlord (or similar), the descendants will have formed one of the allied families in the developing kingdoms in southeast Britain. After the conquest, in which the local aristocrats were effectively collaborators with the new regime, they would have wanted to express their wealth in a more Roman way, so like lots of others, they had a new villa built to impress their peers and tenants.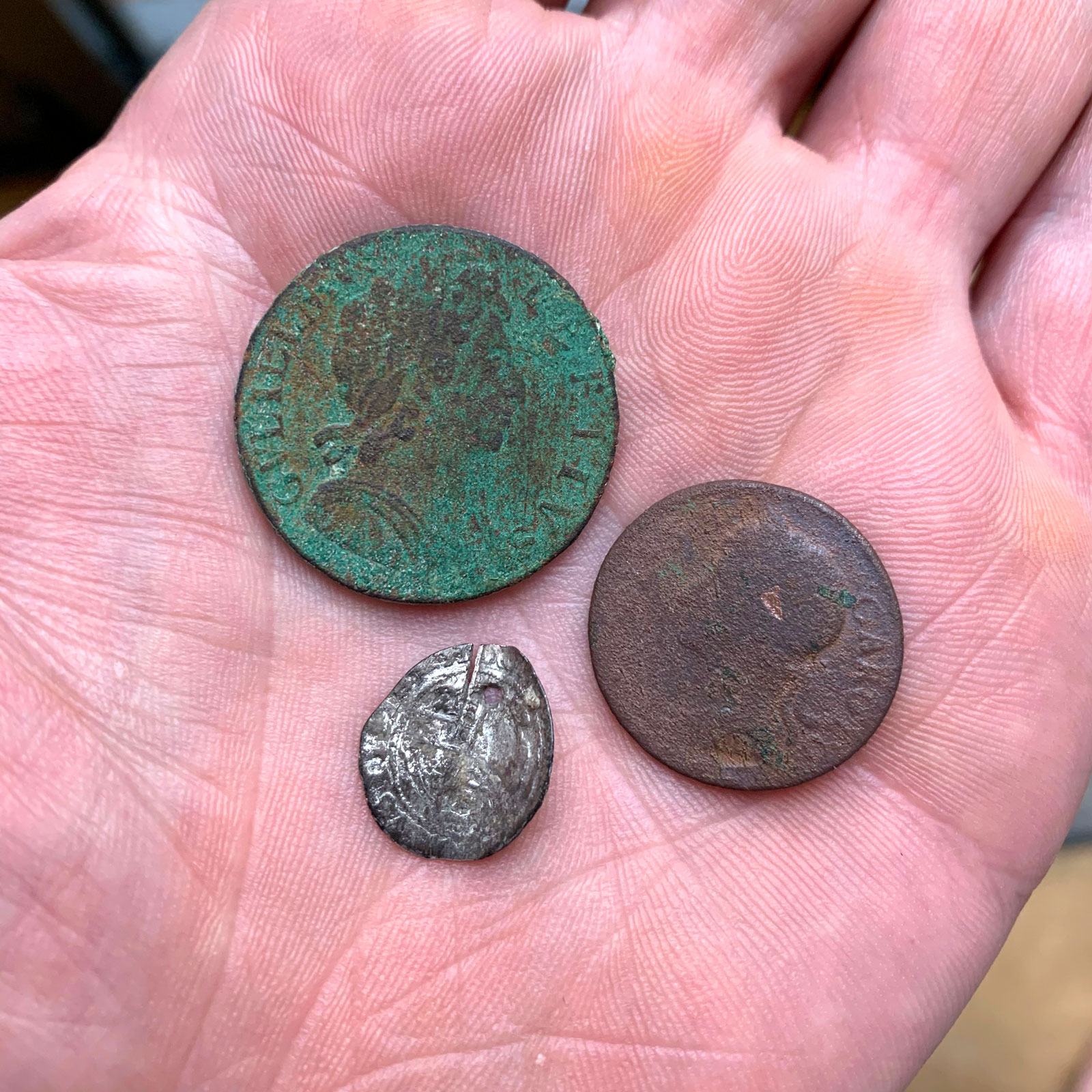 Selection of coins found.
So with all this information, surely there should be Roman coins and artefacts to find here and at the very least there should be finds recorded on the PAS database, but there is nothing on both counts. So where have all the finds gone?
There is a theory that the villa was never actually built, that the foundations were laid but that's as far as it went. If the site was never occupied then that would certainly explain the lack of finds. The only problem with this theory is that the aerial photographs clearly show the evolution of the site from a smaller rectangular enclosure to the much larger one. Plus there are the fragments of Roman amphora that I found, you don't find too many of those away from high status habitation.
As a side note, there is also another theory that Arbury Banks is the site of "The Battle of Watling Street" where Boudica was famously defeated by the Romans. If such a battle had taken place here then surely there would be some scattered military remnants of that fight? Again the lack of finds might suggest the battle took place else where, but it is an interesting theory which you can read about by clicking on the link above.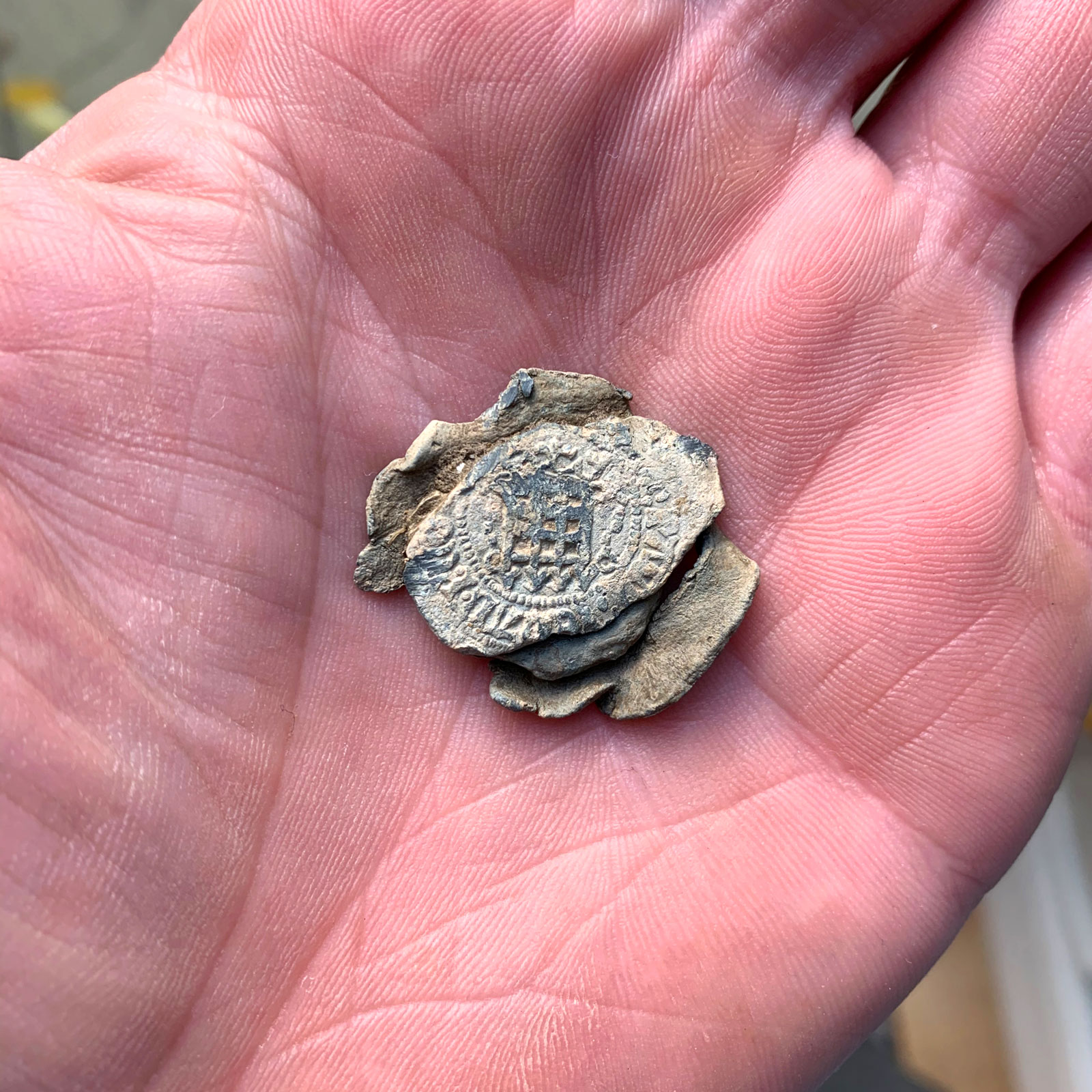 A county alnage lead seal.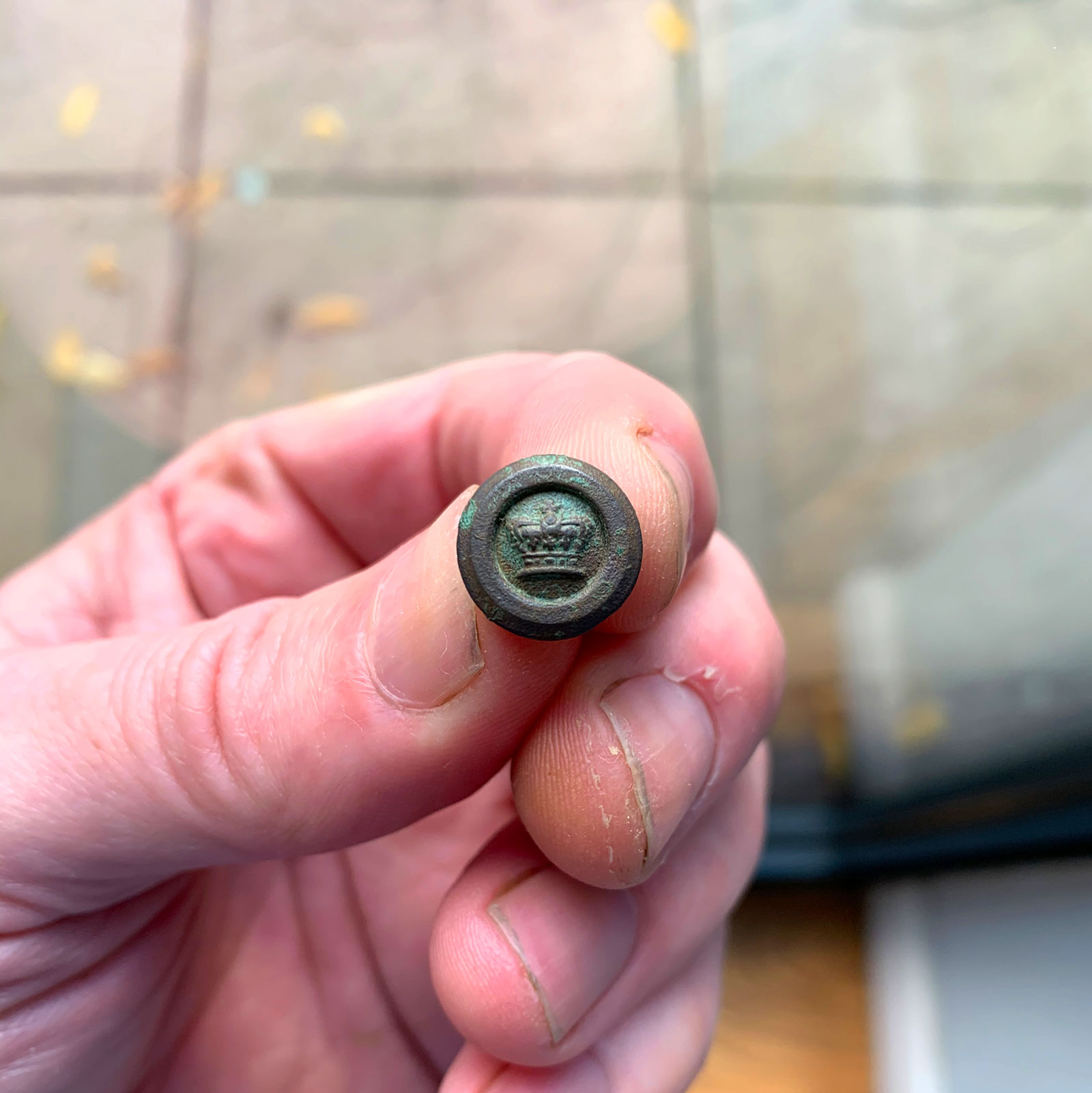 Small button with a crown motif.
So where does that leave me with regards to a conclusion? It's a difficult one because all I can do is guess at the several possibilities. I have no evidence if finds were ever found and taken from this site or indeed if there were any finds ever here in the first place. There is always the possibility that this site has been night-hawked over the years, as unfortunately of course this does happen, but once again I have no evidence.
It just leaves me with the thought that if we as detectorists are out uncovering the past then we have a duty to record the things we uncover which are of significance under the PAS guidelines. I see it as a privilege that we get to help stitch together the rich tapestry of history that lies beneath our feet. If we don't report our finds then that's when the tapestry misses a few stitches and ultimately becomes a little less rich.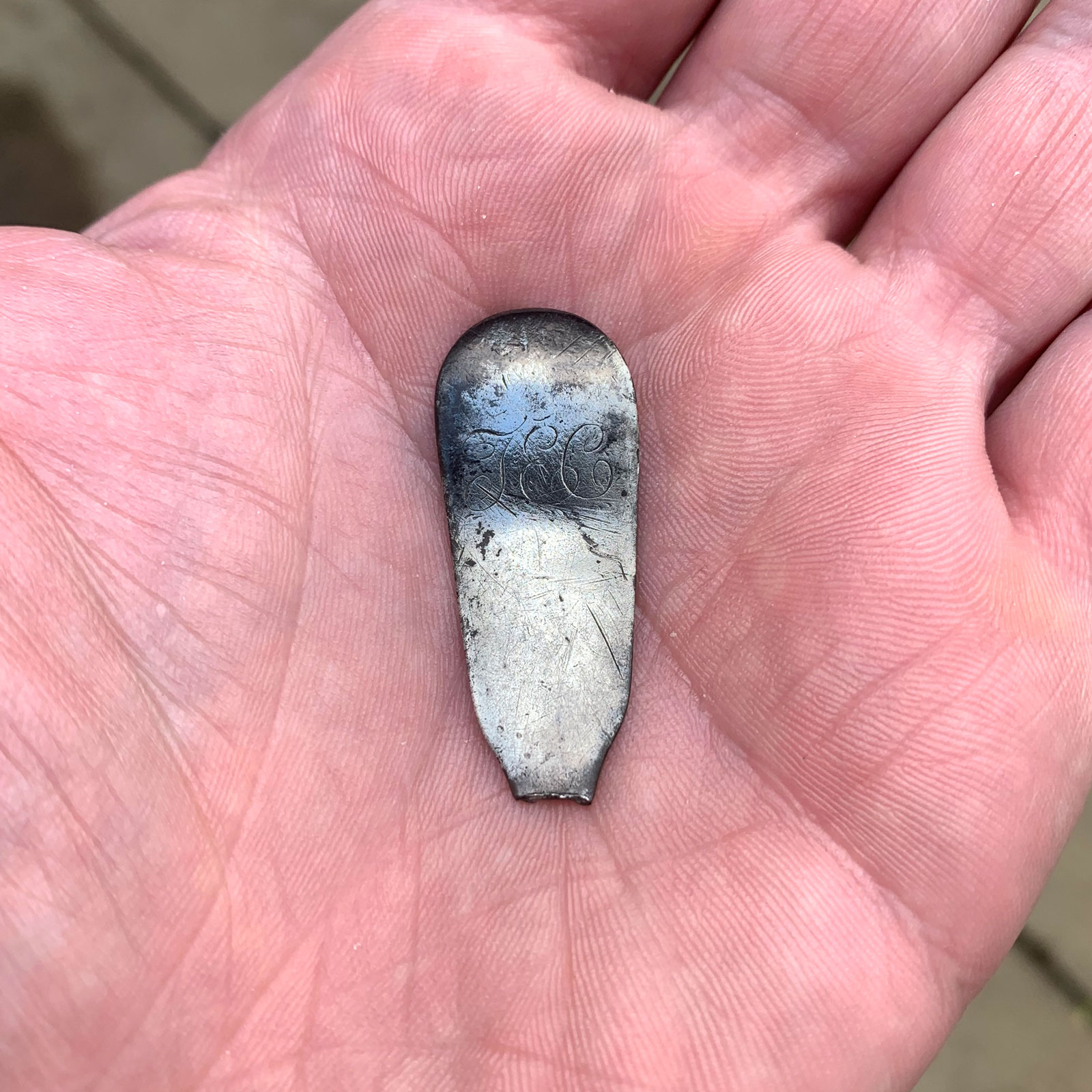 Silver spoon handle with initials J. E. C.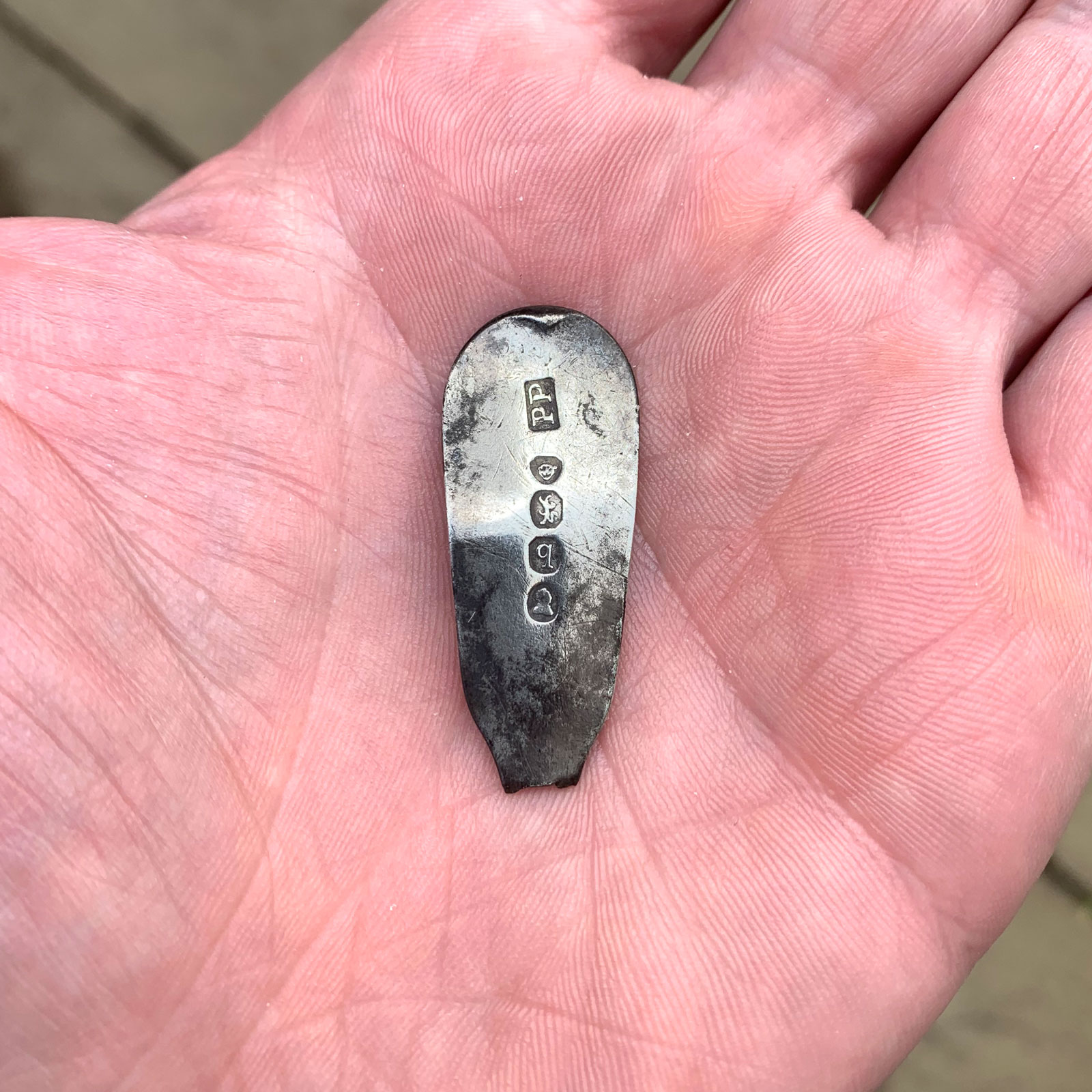 Made by Philip Philips in 1831.
Our time on this permission has come to an end due to the field having now been seeded. However, rather fittingly on the last day there, what should pop up? You guessed it, a Roman coin. Also rather fittingly it was found by my friend whose permission it was. The coin in question, a dupondius of Claudius and is actually a copy, produced during a time of coin shortage in Britain and circulated until at least the start of the third century.
It amazes me that this will be the first ever Roman coin to be recorded from this site on the Portable Antiquities Scheme. In fact it will be the first of any finds to be recorded from this site, and about time too!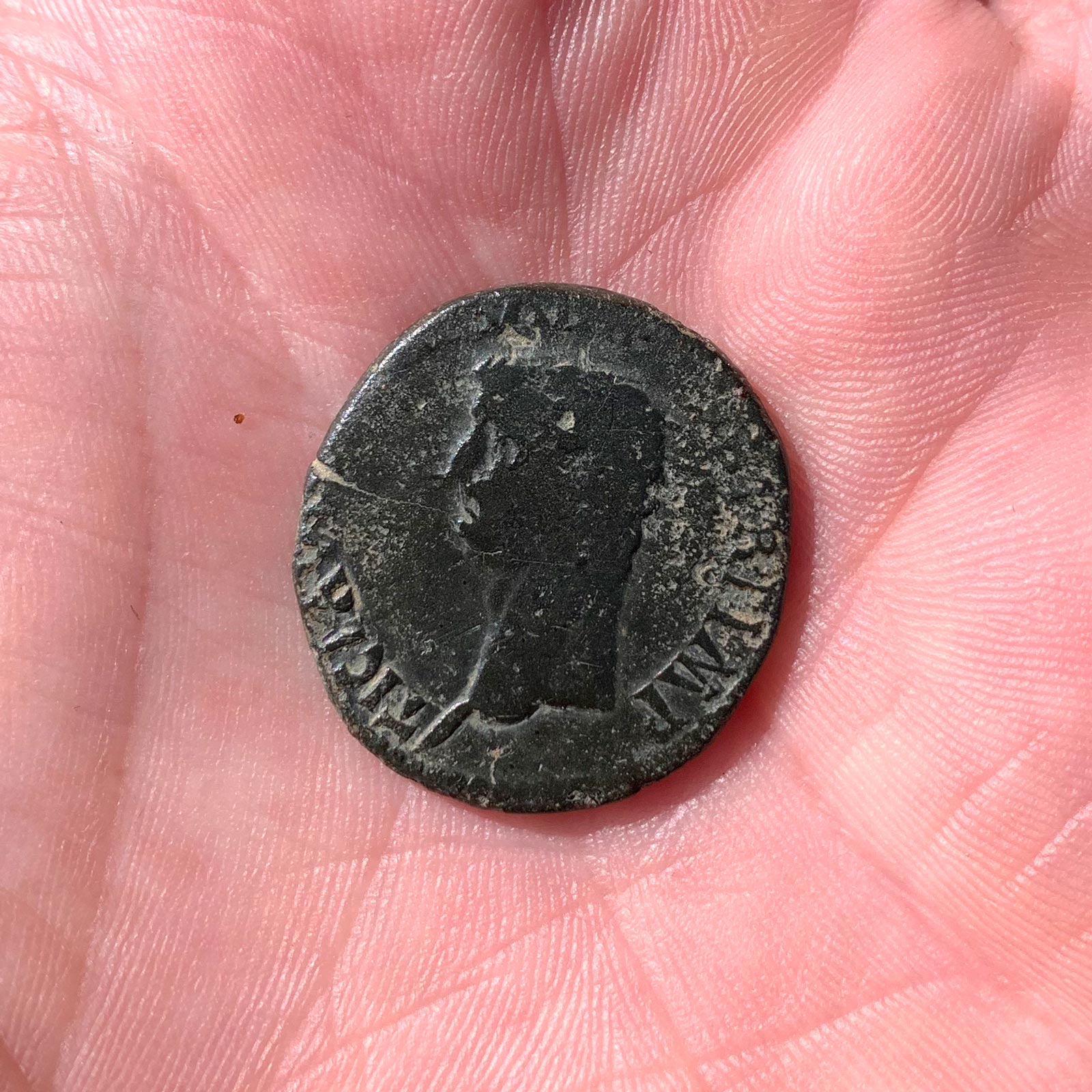 Obverse of Dupondius of Claudius.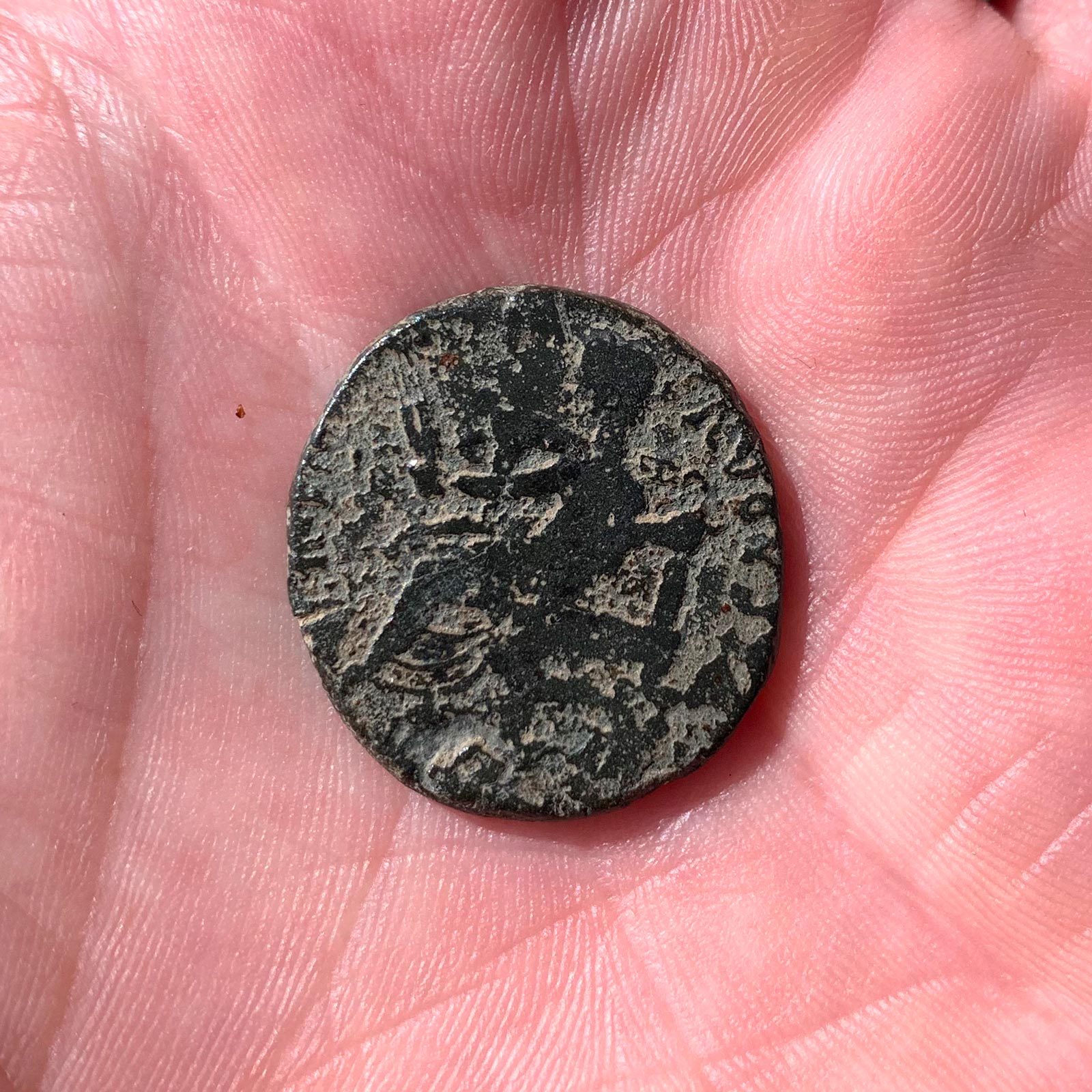 Reverse of Dupondius of Claudius.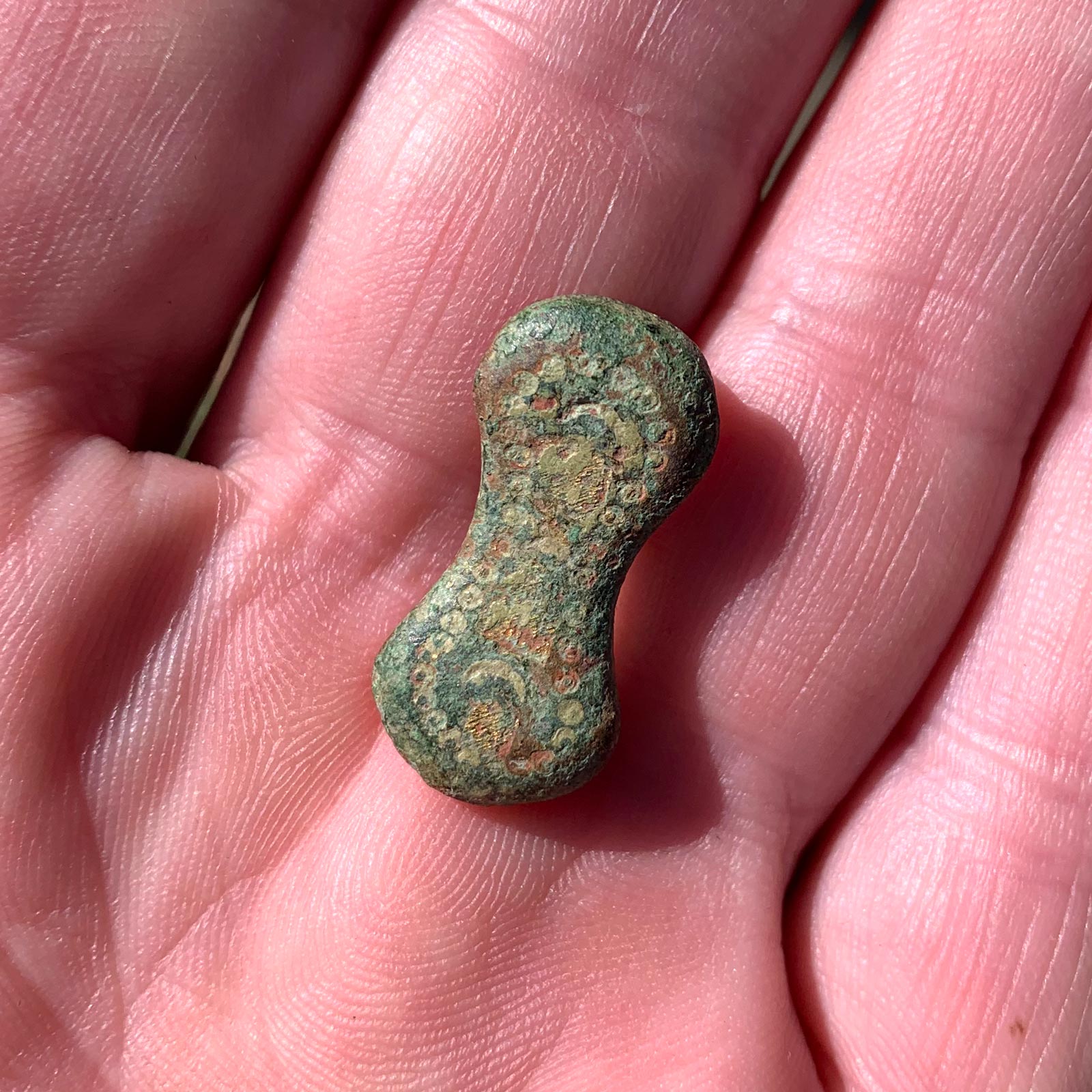 Front of a possible Roman mount.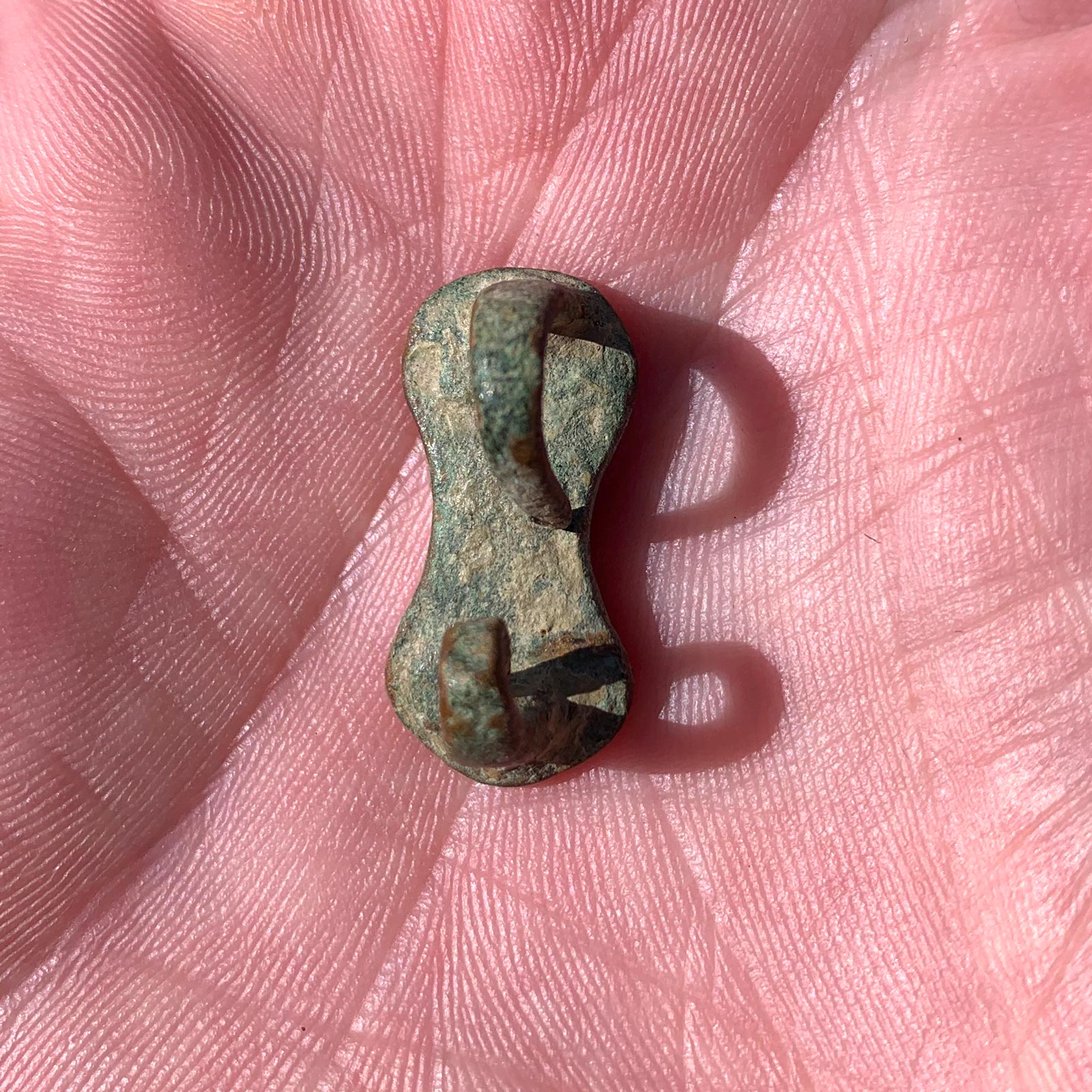 Reverse of a possible Roman mount.